The temperatures this year have been among the highest we've seen in a while. The sun has been hard at work to make this summer a hot one but the sun isn't the only thing that's hot this summer. Citrine jewelry is also shining and definitely up top on the list of perfect summer jewelry. With its vibrant yellow hues, citrine jewels will help you look radiant by complimenting your golden summer complexion. You can wear a lighter hue if you are going for a softer look or wear a deeper citrine for instant attention. You can complement this jewelry with warm colors or go in the other direction and wear it with pastels or blacks to highlight the piece. Whatever style you choose, make yourself a glass of fresh squeezed orange juice to freshen up and enjoy the summer with your hot citrine jewelry.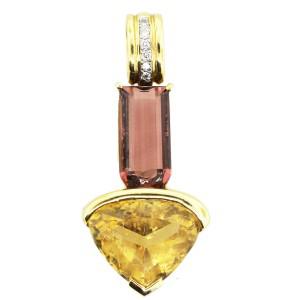 This 18k gold, diamond, citrine and pink tourmaline slide pendant is to die for. It adds the perfect pinch of elegance and grace to any summer evening outfit. The pink tourmaline helps balance out the gold accents while also complementing them.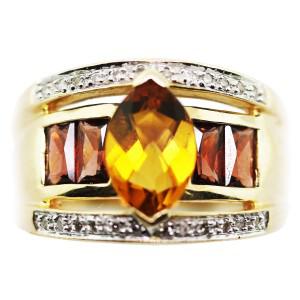 Nothing compliments the above pendant better than this beautiful citrine, garnet and diamond 14k yellow gold ring. Those two are a match made in heaven but of course with its sharp features this piece of jewelry could also stand on its own and will surely call everyone's attention. This ring is hotter than the summer sun.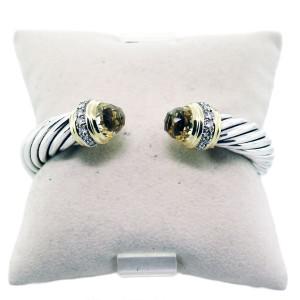 For a softer citrine look go with this Estate David Yurman champagne citrine cable bracelet with diamonds in 18k yellow gold. The stearling silver compliments the citrine here beautifully highlighting it's warm tone.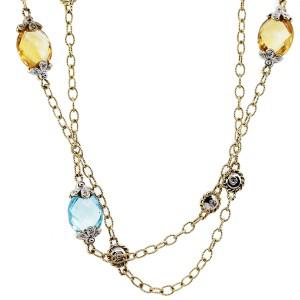 If you want to mix it up a bit then go with our blue topaz, citrine and amethyst station necklace in 14k yellow gold. This necklace is delicate yet also has great detail and craftsmanship. The cooler tones of the topaz and amethyst highlight the citrine here while also make this piece winter and spring friendly.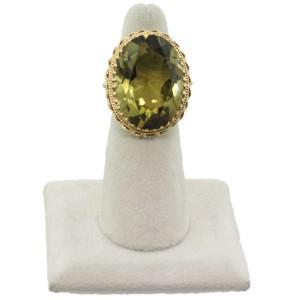 If you just can't get enough of this jewel's radiating warmth then go all out with our vintage 14k yellow gold and lemon citrine cocktail ring. With its detailed gold side design and its large stone this ring is sure to make a hot entrance to any event.