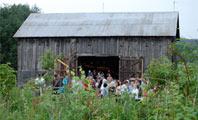 Aside from taste—nothing beats the flavor of natural, locally grown foods—there are plenty of reasons to eschew supermarkets in favor of farm markets. Local farms produce healthier, more nutritious foods that are better for you, the environment and future generations. Factory farming, on the other hand, perpetrates atrocities against animals and, often, creates products that raise your risk of disease. Buying food at its source helps create a deeper connection to and appreciation of the foods we eat.




Here's where to go for some of the freshest foods on the planet in the Pocono Mountains of Northeastern Pennsylvania:

Farm MarketsHawley Famers Market, Hawley Train Platform, Route 6, Hawley, (570) 226-3267, www.visithawleypa.com. Fridays, 2 p.m. to 5:30 p.m. June thru October. Local fruits and vegetables, plants, flowers and breads.Mahoning Farmers Market, 2522 Blakeslee Boulevard, Lehighton, (570) 386-2096. Thursdays, 9 a.m. to 7 p.m. Fridays, 9 a.m. to 8 p.m. Saturdays, 9 a.m. to 4 p.m. Open year round. Local specialties, organic food, crafts, vegetables and fruits.Milford Farmers Market, Milford Township Building, Routes 6 & 209, Milford. Thursdays, 8 a.m. to 4 p.m. July through October. Local fruits and vegetables and baked goods.Monroe Farmers Market, 827 Ann Street, Stroudsburg. Saturdays, 8 a.m. to noon May through October. Local fruits and vegetables, plants, flowers, raw natural honey, fresh baked breads and pastries, jams, jellies, syrups, hand-roasted gourmet coffee, homemade pasta, sauces, fine wines, handmade soaps, lotions and candles.Shawnee Market, The Shawnee Inn and Golf Resort, 124 Shawnee Inn Drive, Shawnee-on-Delaware, (570) 424-4000, www.shawneeinn.com. Tuesdays, 4 p.m. to 8 p.m. Local produce, ShawneeCraft Beer, maple syrup and honey, locally roasted coffee, homemade preserves and pickles, home baked goods, crafts, jewelry natural cosmetics and more.The Farmer's Basket, 1309 North 5th Street, Stroudsburg, (570) 421-6641. Saturdays, 9 a.m. to 6 p.m. Sundays, 9 a.m. to 5 p.m. Local produce, vegetables, herbs and houseplants.Wayne County Famers Market, Commercial Street behind Visitors Center, Honesdale, (570) 760-6509. Saturdays, 9:30 a.m. to 1:30 p.m. Late May through October. Berries, broccoli, zucchini, summer squash, peas, beans, peppers, eggplant, cucumbers, sweet corn, cantaloupe, watermelon, a variety of herbs and tomatoes. Fall produce: apples, pears, root vegetables, leeks, winter squash, cabbage, turnips, Brussels sprouts and pumpkins.FarmsCalkins Creamery, 288 Calkins Road, Honesdale, (570) 729-8103, www.calkinscreamery.com. Tuesdays through Saturdays, 11 a.m. to 3 p.m. Sixth generation family farm producing farmstead artisan cheeses and naturally raised meats.Coutts Berry Farms, Paupack Blueberry Farm, Gumbletown Rd. Rt. 507, Paupack, (570) 226-9702, www.paupackblueberryfarm.com. Mondays through Fridays, 8 a.m. to 5 p.m. Sundays, 8 a.m. to 4 p.m. Homemade ice cream, baked goods, jams, jellies and relish.  After mid-July, pick your own blueberries or buy pre-picked.Dansbury Famers Market, Miller Park, behind Dansbury Depot, East Stroudsburg, (570) 992-5615. Wednesdays, 8:30 a.m. to 12:30 p.m. May through October. Local fruits and vegetables, dairy and eggs.Fox Hill Farm, 297 Fox Hill Road, Honesdale, (570) 251-9334, www.foxhillfarmexperience.com. Largest selection of flowers in the region. Visit the farm for year-round events, including films and flower bouquet workshops. The Garden Shop is open Saturdays, 10 a.m. to 4 p.m., year round. Buy shrubs, perennials, garden tools, garden decor and more. Enjoy a farm stay experience in a private cottage.Josie Porter Farm, 6332 Cherry Valley Road, Stroudsburg, (570) 992-0899, www.josieporterfarm.com. Wednesdays, 3 p.m. to 7 p.m. Saturdays, 9 a.m. to 2 p.m. May through December. Onsite Farm Stand/Buying Club.The Anthill Farm, 1114 Beech Grove Road, Honesdale, (570) 253-5985, www.theanthillfarm.com. Three siblings purchased an old dairy farm and converted it into a mixed vegetable, fruit, nut and livestock farm. The result is amazing quality produced via progressive, sustainable philosophy. Seasonal CSA, featuring a large selection of fruits and vegetables, available at below market value.