Recipe Number One Hundred & Sixty Eight
I admit to feeling a little anxious when the French Madeleines won the Tuesday Facebook Poll. It meant I couldn't put the recipe off any longer! I've no experience of making French Madeleines but I'd heard on the baking grapevine that they can be quite tricky. A successful result can't always be guaranteed – eeek! As I've never eaten one of these French delights it came as a surprise to find out that they're cakes. I had thought that they were biscuits!!
A special tin is required for these shell shaped cakes. As I didn't have such a tin buried in the depths of my kitchen drawers I had to order one online. I hoped these cakes were nice; otherwise it would be a waste of money!
Due to some torrential rain I wasn't able to take my little boy on our usual trip to the swings. Instead, I read Isaac endless stories, pushed him around in a cardboard box and stacked numerous towers. By the time his nap came around I felt ready to drop! Sadly there was no time to go and lie in a dark room as the Madeleines would not make themselves. More's the pity!
My weary legs carried me straight to the kitchen. It was so dark and gloomy that I needed to put the light on so that I could see what I was doing! The first task was to prepare the tin. I wiped butter over the shell shapes and then dusted them with a generous amount of flour. Mary says to shake off the excess. I had the bright idea of shaking the tin outside. Forgetting it was a windy day I opened the back door and gave the tray a good shake. Most of the flour flew straight back into my face. I had to laugh!!
Now that the tray had been dealt with it was time to get on with the cake making. I weighed out a good quantity of butter and then set about melting it in a small saucepan. At least this meant I didn't have to worry about softening it. However, it did add to the washing up! While the melted butter cooled I followed the next set of instructions. I cracked a couple of eggs into a bowl and tipped in some sugar. Mary says to whisk together until thick and light in color. No time estimate is given. If you've read about my Swiss Roll saga you will know the trouble I've had in the past with this method. I never seem to get the mixture thick enough. I turned my whisk on to its highest setting and whisked the mixture to within an inch of its life. There was no let up; I meant business! Even though the mixture appeared suitably thick and pale after a minute, I decided to keep going until the whisk left a trail when lifted from the bowl. I hoped and prayed that I was doing the right thing!!
I measured some self-raising flour and a tiny amount of baking powder into a bowl. I was to sieve half of it on top of the thick moussy mixture. For the lemony flavor I also grated in the zest of a lemon. Using a metal spoon, I gently folded in the flour and lemon zest. The flour, of course, decided to misbehave and hide at the bottom of the bowl. Just when I thought I'd combined it all together I'd find another huge pocket of lumpy flour! By now the butter had cooled a little. Now was the time to pour half of it around the edge of the bowl and, as before, carefully fold it in. I repeated the process with the remaining flour and butter. Finally everything was combined but I was really worried that I may have lost all the air that my electric whisk had worked so hard to put in!
I was told to spoon the thick mixture into the prepared moulds so that it was just level with the top. I worked this out to be about three heaped teaspoons each. It took a ridiculously long time to fill each mould, yawn! Whilst adding the mixture I realised that my brand new tin was wonky; it tipped all over the place. Well that was a fat lot of good! Thankfully it managed to control its fidgets once in the oven! The Madeleines only cooked for eight to ten minutes. I anxiously crouched by the oven with my nose almost pressed to the glass! I was terrified of burning them. There is no picture to accompany the recipe in the Baking Bible, so I'd had a look online to see what I was aiming for. The first thing that struck me from the pictures was how pale French Madeleines are; there wasn't even the slightest hint of brown. After eight minutes my little cakes were ready. Some had caught around the edges, while a few had grown too large and spread from the confines of their moulds – whoops! Thankfully they easily came away from the tray without much persuasion. I wiped out the tin and then re-buttered and floured it. This time I only used two teaspoons of mixture. These Madeleines turned out a little smaller but they browned more than the first batch. Mary says that we should be able to make around 30 Madeleines. Alas, I only managed 23, probably a good thing as she mentions that they are best eaten on the day of making. When taking pictures of the Madeleines, I noticed that there were small holes in most of my little shell cakes. I'm not sure why. I dusted over some icing sugar as that seemed to make the cakes a little prettier and less plain.
I'm so pleased I successfully managed to make French Madeleines. They weren't as bad as I had feared and they tasted so good. I love lemon cakes and these were really light and lemony. After a tiring and long day these were a saving grace! I think I must have eaten about eight during the course of the afternoon and evening. My excuse was that they wouldn't keep until the following day. However, I put the theory to the test and tried one the next day. Although a little chewier they were still quite yummy. I'm thinking the leftovers will go very well with a big bowl of custard!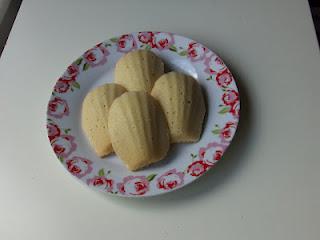 A bit plain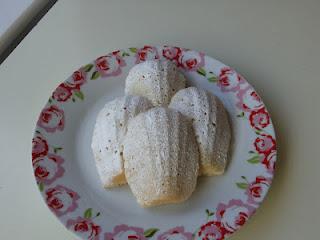 Icing sugar on top.