Bonjour!  We meet again, mes cheres francophiles.
Today I pay tribute to the iconic Chanel, quilted handbag–the 2.55 bag.  Voila!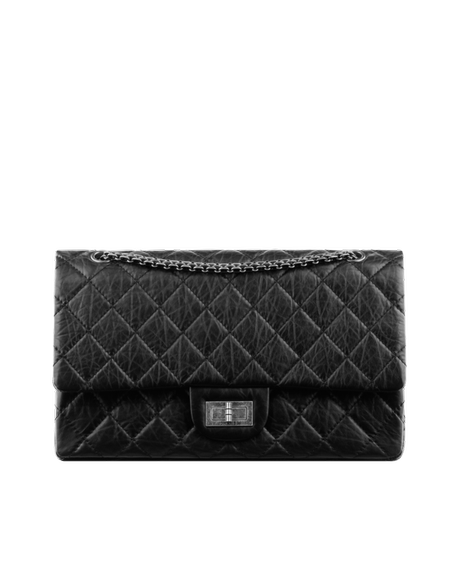 via chanel.com
Isn't she gorgeous?  Coco Chanel's masterpiece/brainchild was first released in February 1955 (thus the 2.55).  It hasn't lost its momentum in the fashion world since.  Now that is tried and true style.
I fell in love with this handbag many, many moons ago.  She is an absolute classic and I have never seen another bag used in such versatile ways.  Dressed up or down, she is always CHIC.
And coveted.
It is the one bag that you see repeatedly on the bronzed arms of the Hollywood élite and the social divas–everywhere.  Just do a Google image search and see what I mean.   A brand new 2.55 will set you back a few thousand dollars (the one picture above is $5300).  Even buying it pre-loved will cost $1,000 to $2,000 (or more).
Thus, I do not own one.  Nor do I see one in my immediate (or far) future.  Sigh.  And although this causes me significant ennui, I have learned to cope by finding "the look" from other sources.
Am I talking counterfeit?  NON, NON, NON!!!  I do not buy counterfeit bags just so I can say I have a "Chanel".  By buying anything with a trademark name on it that isn't authentic, one is supporting an illegal industry and that is not my style.  Nor should it be yours.  Just saying.
What I am referring to are bags that are "inspired" by iconic designs…whether it be the 2.55, a Kelly or Birkin, etc.  Many companies through the years have made beautiful handbags that are similar in style to the expensive name brands but they don't illegally call their bags by said name brands.  They put their own names on these bags–not claiming to be something it is not.  Some great examples of these companies are Lederer, Koret, and Artbag.
Koret is one of my favorite vintage handbag designers.  They made some great, quality bags in their vintage heyday.  They have had a resurgence in the handbag market but I do not own a "new" Koret to be able to compare the quality.  I hope they stuck with what they do best.
My black quilted Koret is a staple.  I can't use it for everyday because my Filofax barely fits in it.  However, this is my "go to" evening and special events bag…theater, weddings, anniversary dinner, etc.  It is made of very soft leather and is leather lined.   The chain strap is adjustable just like on the real thing.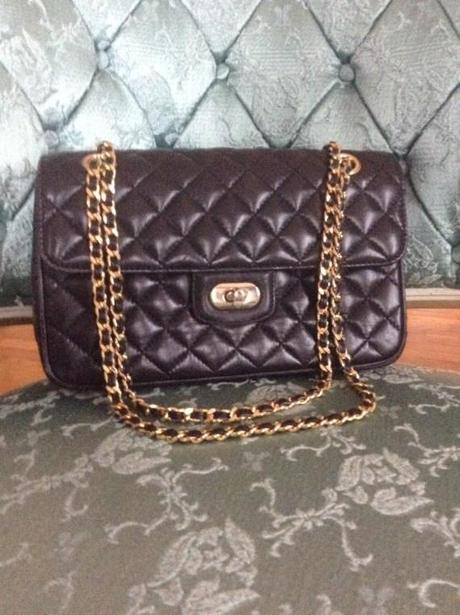 I try to hunt for these bags from time to time to put in my Etsy store.  I found two just the other week.  Both are by Koret.  One is black patent leather and the other is black soft leather.  The latter is evidently "lost" in the mail.  The seller and I are trying to figure it out.  But the patent leather one arrived and is in great shape: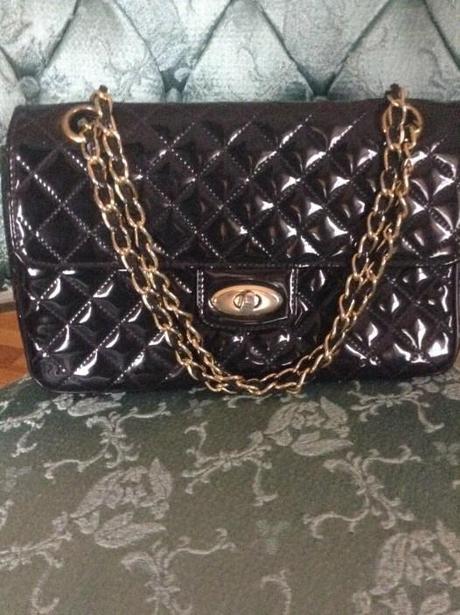 Another Koret "Chanel" inspired bag I own is this burgundy tote: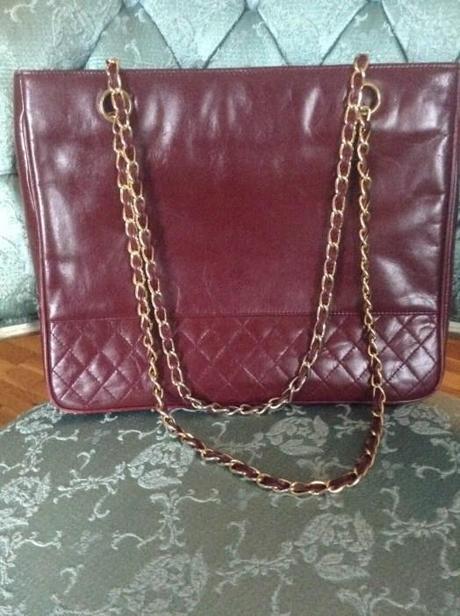 A marvelous, gorgeous bag that doesn't get used enough but I am unwilling to part with it.  I love the strap length and size of this bag.  Again, the leather, color and quality are exquisite.  They are so pretty…I think I need to do a group shot: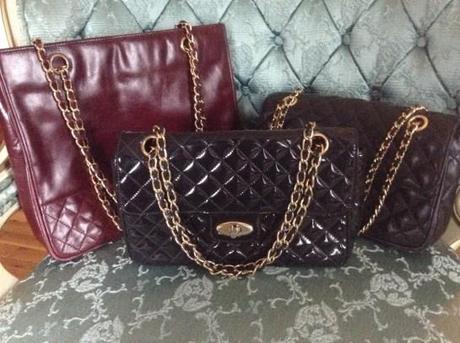 So what is my French Friday point?  If you love something enough but can't afford to own it, don't get hung up on whether it has to be the name brand or not.  If you can afford a $5,000 handbag…then by all means enjoy.  But if you are more middle of the road in what you can afford, do some research.  You can find bags that look incredibly similar to your favorite, out of your league, name brand.  I know I will probably never own an authentic Chanel 2.55 (unless it is willed to me or someone takes pity on a starving blogess–ha!) but that hasn't stopped me from incorporating its timeless style in my humble little world.  It's all part of that joie de vivre!
Have a beautiful weekend!
~~Heather~~