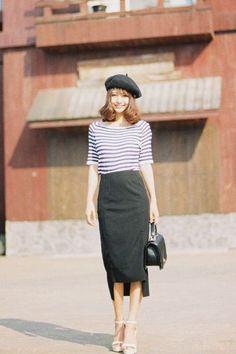 My Spring/Summer wardrobe planning has begun.  While I do not intend to buy many items, I will be replacing some worn looking tops/tanks, maybe my black casual skirt and I would love to find a great pair of white linen pants.  But on the top of my list is a Breton striped shirt.
I decide to get a black and white striped Breton top instead of navy blue and white–knowing it would work better with my wardrobe.   And oh man! are there tons of options out there for that quintessential nautical look.  If you are thinking of getting one this year, check your favorite shops first and your search may end in no time.  I started with my favorite stores too, however, I didn't find exactly what I was looking for.  Actually, the black and white stripe option is a bit harder to find than I thought it would be.  But I also had other things to consider like stripe thickness, shirt length, sleeve length and neckline.  I know.  I am one picky chick.
After many searches online, I finally found my "ideal" Breton shirt.  Guess where it was…
…France! Of course.
I found the shop Brittany Boutique which specializes in the Breton type shirt.  They have a great selection for men, women and kids.  I decided to get this one in the black and white option: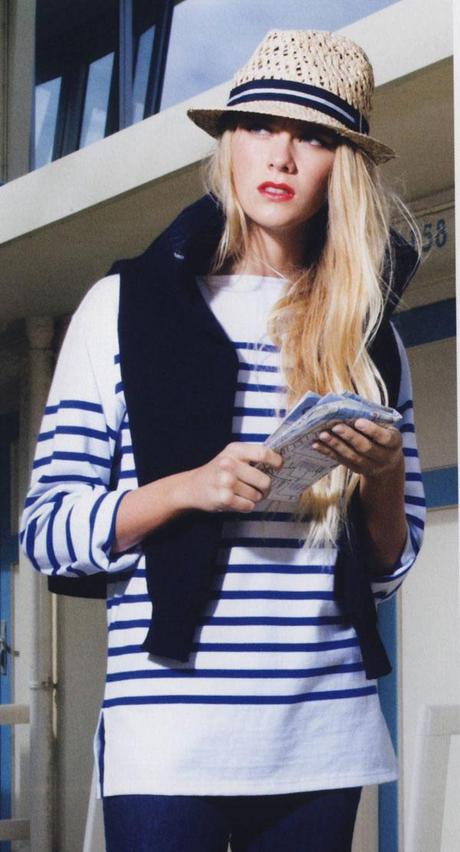 I love the length of it which should work well with jeans, leggings, or cropped pants.  I am not sure it will work with my black skirt but it might if I tuck it in (which I am not a fan of doing).  Ordering from the company was super easy and they even give a PayPal option.  Shipping takes some time since it has to cross the Big Blue Ocean but I should have it within 7-10 days.  Maybe all the snow will be gone by then?  And maybe not.
Do you like the nautical look?  Are Breton stripes your idea of chic?
~~Heather~~
P.S.  Linking with Cupcake Caramel–I hope!!