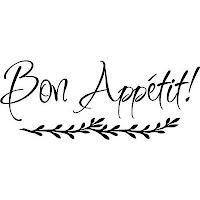 S
ome of my favorite meals are French. You might be wondering how French food equates to healthy living, but it makes me happy and happiness is definitely congruent with health. Now I'm certainly no Julia Child or even Julie the blogger, but I can appreciate the simple, yet bold flavors of French cooking. The French have mastered the art of finishing an indulgent meal with a fresh, crispy green salad and a creamy bite of cheese so you're divinely full, yet you don't feel like you've overeaten.
One of my household staples is a classic French vinaigrette that I learned to make 1,000 years ago while "studying" in France. My daughter won't even eat salad without this dressing. The key is to make it in your wooden salad spoon, whisk it together in the bottom of the salad bowl, place the fresh greens on top and have the man in the house toss it when you're ready to eat it. This is always the man's job in France.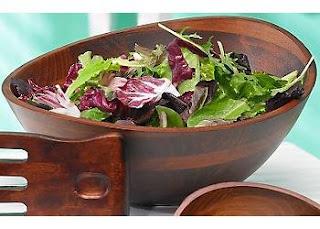 Classic French Vinaigrette
Place a small dollop of Dijon mustard 
on your wooden salad spoon. 
Add a pinch of kosher salt and red wine 
vinegar to fill 3/4 of the spoon. 
Whisk together with a fork. 
Pour mixture into a salad bowl. 
Add one finely chopped shallot.
Add 3 spoonfuls 
of vegetable oil 
(fill the wooden spoon 3/4 full just like the vinegar)
and whisk with a fork.
Toss with greens when ready to eat.
Basically, the dressing is 3 parts oil, 1 part vinegar
A
nother classic dish in my house is chicken and wine. I might like this one so much because you have to open a bottle of good red wine and I hate to let any go to waste.  This is my simple version of coq au vin.
Chicken & Wine
1 1/2 lbs of bone-in chicken breasts
1 onion chopped
1 cup of baby carrots sliced lengthwise
1 cup of chopped celery
3 cups of chicken broth
1 cup of good red wine
1 piece of apple wood smoked bacon
1 tbsp olive oil
kosher salt, pepper
bunch of thyme/rosemary sprigs tied together
Rub chicken with salt & pepper on both sides. Brown the chicken breasts in olive oil in a large, heavy bottomed pot on medium, high heat with the piece of bacon (approx. 5 min. on each side). Remove chicken and discard bacon. Add onion, celery and carrots. Cook for 5-10 minutes on medium heat.  Add chicken back to pot, red wine, chicken broth, herbs, salt & pepper.  Bring to a simmer and cover for 1 1/2 hours.  Shred chicken and add it back to the pot. Add salt to taste. Serve over rice.
I absolutely love the flavors of a savory raclette. I prefer using Gruyere cheese and making a sort-of fondue for spreading on the bread. The cheese works best if you can keep it warm.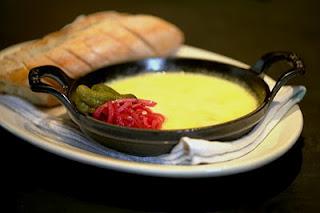 Simple Raclette Recipe
6-8 baby potatoes

8 oz. gruyere cheese




1 jar of cornichon pickles




4 slices of thick cut ham cut 

into 




2 inch squares




1/4 cup white wine




2 garlic cloves chopped




1 shallot chopped




1 tbsp butter




loaf of french bread sliced on an angle




Boil potatoes (don't over-cook), quarter. While potatoes are cooking, melt butter in cast iron skillet and cook shallots for 1-2 minutes on medium heat, add chopped garlic, cook for 1 minute.  Add shredded cheese, cook until it melts stirring constantly. Whisk in white wine and cook for 1-2 minutes. Keep cheese mixture warm on very low heat, stirring often.  Make your own raclette by spreading cheese on bread, top with a piece of ham, potato and pickle. Yum!


What's your favorite French meal?


Bon Appetit!