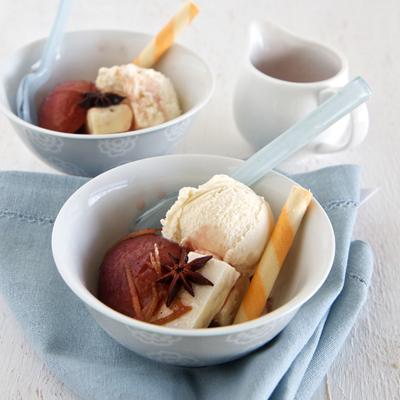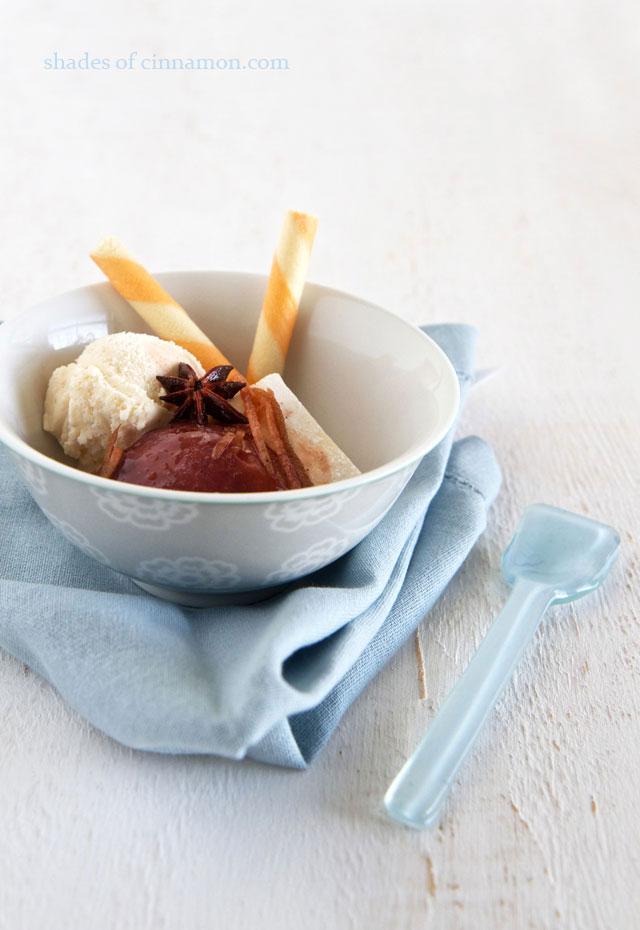 I was recently out for a  meal with my friend Bev at a local tapas bar and they served a delicious nougat dessert which got me thinking about the hundreds of batches of nougat I have made over the years.  The recipe which  was typed out and stuck into my well worn and tattered recipe book ( yes, some of us still have books like that) has the markings of one that is well used and loved.  The fact that next to the ingredients I have huge quantities pencilled in, shows the large amounts that we used to made .  Instead of the ingredients for one batch,  I have 20kg sugar, 5kg almonds, 7 doz eggs, written in. Wow…. I remember those days when the kitchen was filled with sticky pots, mixers whizzing,  and friends from the 31 Club buzzing around , laughing and chatting and preparing for huge charity functions.
Nougat, like most confectionary is not easy to make and the most important kitchen appliance you will need is a sugar thermometer.  It is however lots of fun and worth a try. But  if  you are not that adventurous, you can buy your favorite nougat from the store and make this dessert within minutes.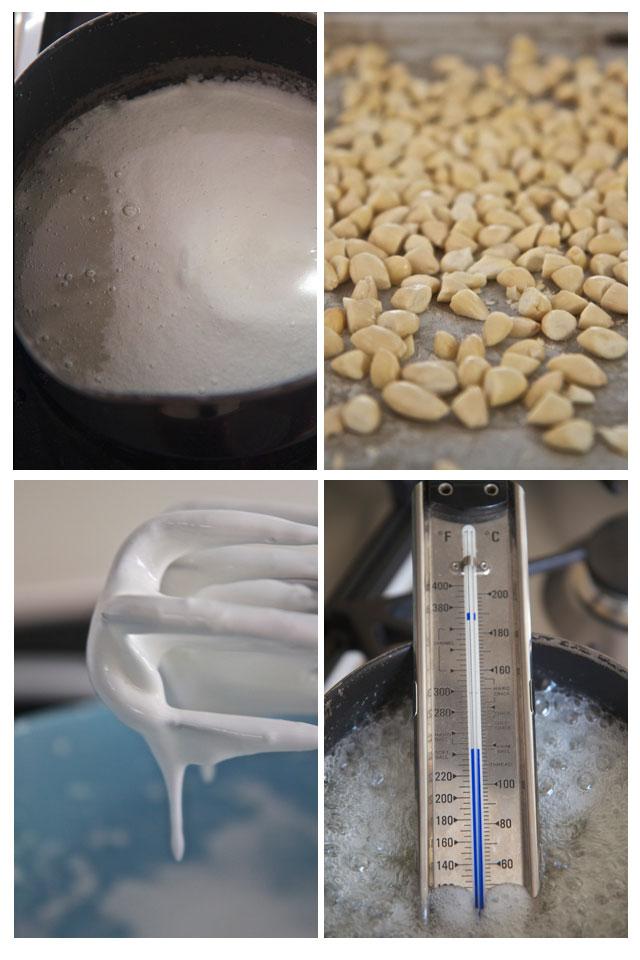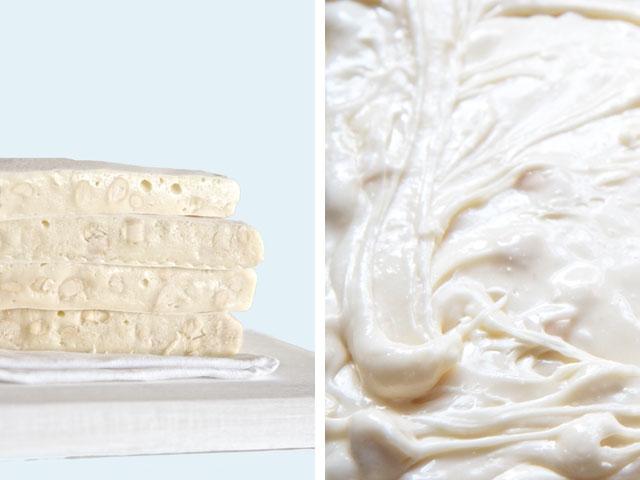 I  poached nectarines in a delicious spicy syrup of water, sugar, lemon juice and rind, star anise, cardomon, nutmeg and cinnamon.  You can also use peaches, plums or figs, whatever is in season at the time.  Warm the nougat slightly in a microwave for 5-10 seconds until it is soft but not runny.  Add the poached fruit, a spoonful of vanilla ice cream and pour the remaining syrup over.  The combination of nutty sweet nougat and the warm spicy fruit is amazing together. I love ice cream with hot puddings, so the addition of ice cream is an extra bonus for me, but you could also use cream if you prefer.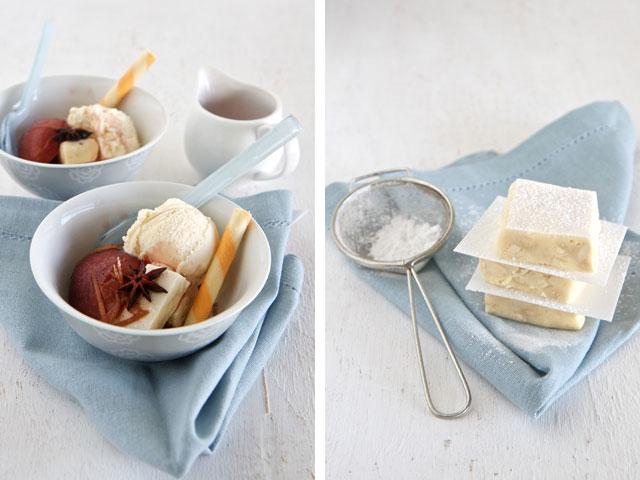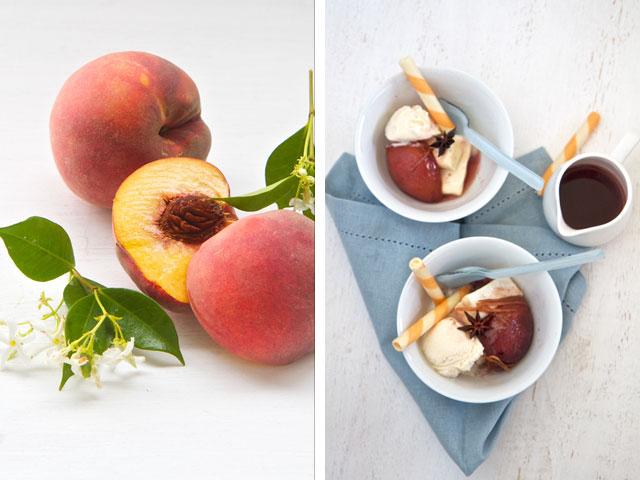 French Almond Nougat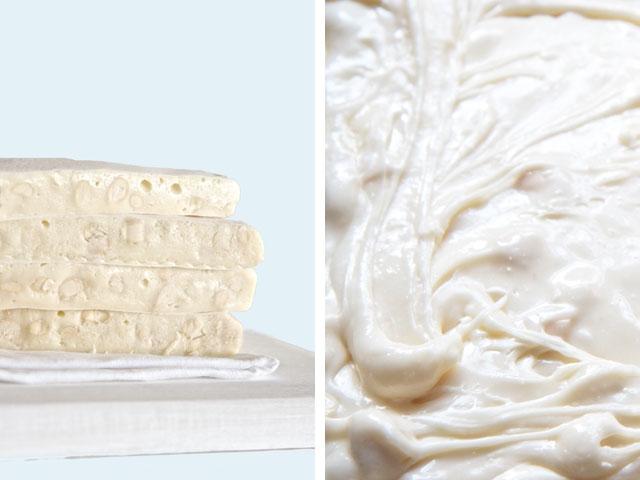 Author: Shades of Cinnamon.com
Recipe type:
Dessert, confectionary
Serves:
15
Prep time:
30 mins
Cook time:
30 mins
Total time:
1 hour
Print
  Ingredients
4 Tblsp water
500g sugar
¼ tsp salt
¾ cup liquid glucose
½ tsp almond essence
2 egg whites
60g butter
150g blanched almonds
Instructions
Chop the almonds in half and roast in the oven at 120ºC until slightly browned. You can use the almonds with skins on if you prefer.
Grease a 20cm(8in) x 20cm(8in) pan with butter and cut 2 pieces of rice paper to fit.
Put water, sugar, salt and liquid glucose into a medium sized pot with a sugar thermometer and bring to 121ºC or FIRM BALL stage. Don't allow the mixture to heat too quickly, as the sugar must be completely dissolved . It should take about 10mins to reach this stage. If the mixture heats too quickly the nougat will be granulated.
Beat the egg whites with an electric beater until stiff but not dry.
Once the liquid has reached the FIRM BALL stage, add approximately ¾cup of the mixture from the stove into the egg whites and beat immediately for 2 minutes.
Let the remaining mixture on the stove reach 149ºC or HARD CRACK stage. Then add this remaining mixture to the egg whites, add the butter and the almond essence and beat for approximately 8 minutes, or until the mixture comes away slightly from the sides of the bowl and thickens (more if you are using a hand beater). This is the most important stage because if it is not beaten for long enough the nougat be too soft. The mixture is very sticky at this stage.
Add the roasted almonds and combine.
Place one piece of rice paper into the baking tray and pour the mixture in. Smooth out, and add the second piece on top.
Leave to set overnight, but do not put in the fridge.
Cut to size.
3.2.2045
Spicy poached fruit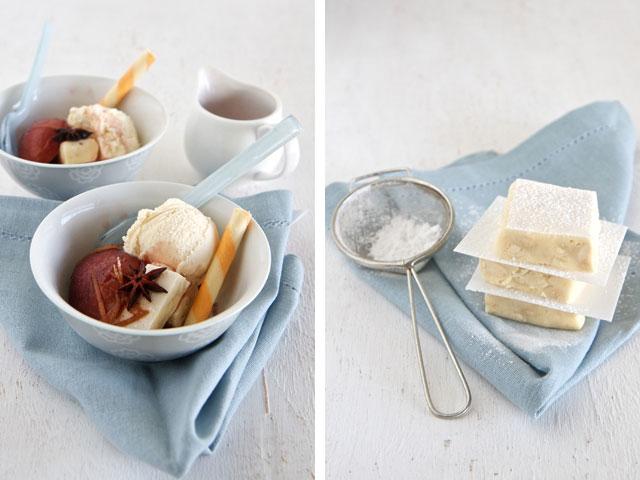 Author: Shades of Cinnamon.com
Recipe type:
dessert, fruit
Serves:
2
Prep time:
5 mins
Cook time:
10 mins
Total time:
15 mins
Print
  Ingredients
2 nectarines or peaches of plums
250ml water
50g sugar
juice of ½ lemon and lemon rind
¼ tsp cinnamon
¼ tsp nutmeg
2 cardomom pods
2 star anise
Instructions
Add all the ingredients to a saucepan.
Cut the fruit in half and remove the pip.
Place cut side down in the saucepan and poach slowly in the syrup for 10 minutes.
Serve while hot with the nougat, ice cream or cream
3.2.2045