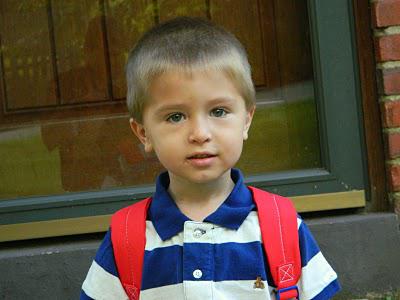 Baby J started (back to) preschool on Friday. 
He had a hard time falling asleep the night before so we had to wake him up in the morning. As soon as he saw me, his face lit up because he was so excited.
It was one of the smoothest mornings we have had with him in a long time. He got up easily, ate his breakfast (french toast) without a word of dissent (highly unusual), and quickly dressed and put on his Thomas the Train backback. And yes, he insisted on wearing his Toy Story/light up, character shoes.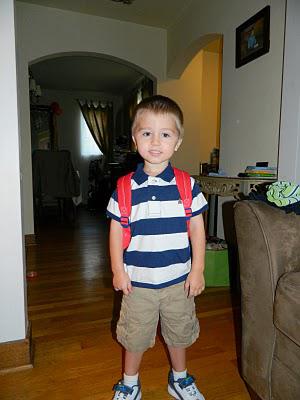 We even left the house on time.
Baby J was so excited when we got to the school. He started playing right away in the sandbox and then with some trucks.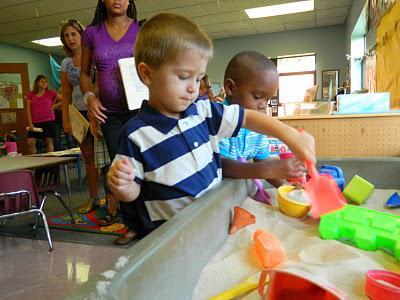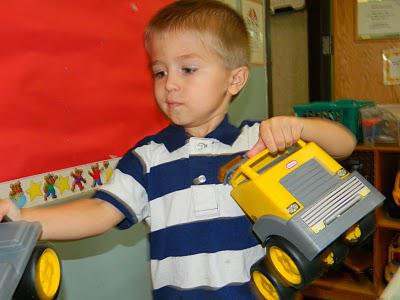 He was so happy about playing with old friends (and some new ones) that he barely noticed when it was time for me to leave. I got a quick kiss and a "whatever mom" look and he was off...
When I went to pick him up, he was sitting nicely (quietly!) in circle time and greeted me with a ginormous smile and hug.
I'm so proud of him and I'm so happy that we found his school/program last year. He's come so far since last year in group play dynamics, transitions and quiet times. The teachers are fantastic and he even has one of the same ones (his favorite teacher!) that he did in the toddler class. He also has quite a few friends in class this year that were in his toddler class last year. The only big difference is that he's going three days a week instead of one and the class time is slightly longer. 
He heads back this Wednesday and he can't stop talking about it!
My little boy isn't so little now. He's growing up so fast, I can hardly stand it. He's so sweet and amazing and smart and funny (and "spirited" sometimes, too). Can I just freeze time now and keep him like this forever?!?!