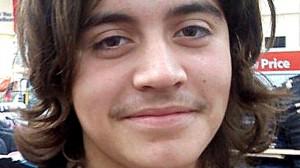 Courtesy of Chris Sigler
11/18/2011 – by Vanessa Vargas
In light of all the recent bullying episodes and attacks on LGBT youth, Chris Sigler a Tennessee student at Sequoyah High School started the Gay-Straight Alliance (GSA) club.  Unfortunately his idea was not embraced by some students and faculty.  Sigler wore a T-shirt to school that read, "Gay-Straight Alliance: We've Got Your Back," which he was asked to cover up.
An article in GO Magazine tells how Chris' exercising of this first amendment right was met with aggression:
"Principal Maurice Moser came to Sigler's economic class in the middle of an exam, and demanded that all other students leave the room. Sigler's sister Jessica refused to leave," Sigler said in a statement. "Moser grabbed Chris's arm, shoved him against a wall, and chest-bumped him several times, while asking, 'Who's the big man now?'"

"It is totally unacceptable that a young man who was peacefully exercising his First Amendment rights would have his speech shut down by the public school principal. Last week's incident clearly illustrates the hostile environment LGBT students face at Sequoyah High School," said Hedy Weinberg, Executive Director of the ACLU of Tennessee, which has been helping Sigler form the GSA and in the current dispute.

On October 18, the Monroe County Board of Education agreed to allow students to wear Tshirts in support of the formation of GSA at the school. The board will also review its dress code to ensure that students' right to free speech is protected. Students in public high schools have a First Amendment right to express themselves through their clothing, as long as the messages they send do not cause a "substantial disruption" to instruction at school. Teachers and administrators may not censor student speech on the basis of its viewpoint or content.
Should T-Shirts with political and or controversial messages be allowed in school?  Tell us what you think!