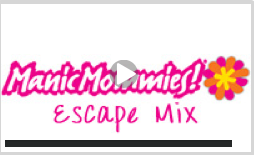 I've written before about rockmyrun, a great website where you can download playlists for free.
Download free running music
You can even search for the particular genre of music you like. What I love most about Rockmyrun is that it doesn't cost you any money. Just by becoming a member, you earn one point per month, and most playlists require 1 point 'payment'. Since I'm a country and western kind of girl, I seldomly 'buy' their playlists, because most of them are not my kind of music, so I've already got 7 points.
Playlist for moms on the run
But when I got their message they had a special playlist for moms, Manic Mommies Escape Mix, I immediately rushed over there, and 'bought' it. I tried it out this morning, and the first song really got me running. It was awful! It was like being at home, with all the kids around me, shouting and arguing. I never ran so fast. Luckily the ruckus didn't last too long, and soon other songs played which I can't remember anymore. Except that they were no country and western songs… So to properly inform you I'll add the description on RockMyRun:
'The mix begins with an ode to motherhood before kicking off a fun ride of female artists spanning 4 decades. From Pink and Adele, to No Doubt and Alanis Morrisette, Pat Benatar and Whitney Houston, to Gloria Gaynor and Fleetmood Mac there is a little bit of everything in this mix, but all with one focus – a salute to the Mom's of the world!'
The playlist lasts about 45 minutes, but I got home just when 'I will survive' started playing. Finally a song I really liked, and my run had finished.
To sum up
The Manic Mommies Escape Mix is not for me, but it díd get me running faster than I normally do, because I tried to get away from all the noise.
I don't think I'll be playing it again, but maybe you'll enjoy it. After all: it's free!