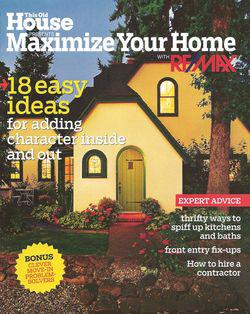 This Old House and RE/MAX have partnered to produce Maximize Your Home with RE/MAX, filled with ideas to add character to your home inside and out. 
Articles include...
Five front entry fix-ups, boosting your curb appeal
Seven thrifty ways to customize your kitchen
Six easy ideas for personalizing your bath on a budget
How to hire a contractor
Five move-in problem solvers for less than $5
...and don't miss the Lowe's ad to get 10% (up to $500) off your next home improvment purchase!
Click here to request your free copy of Maximize Your Home ... or email me at [email protected]!
Sharlene Hensrud, RE/MAX Results - Email - HomesMSP.com