I am delighted to share with you an amazing no-cost telecall opportunity, featuring world-renowned business owners who will be providing crucial business growth advice.
Michelle Salater, President of Sūmèr, LLC in the USA, online marketing guru and creator of the Love Your Blog elearning program, and I recently cofounded Billions without Borders, which aims to facilitate innovative strategies and provide ongoing support to aspiring and established entrepreneurs. The initiative harnesses the power of the Internet to improve communication, collaboration, and inspiration among entrepreneurs around the world.
In conjunction with Global Entrepreneurship Week (GEW) 2011, Billions without Borders announces a series of no-cost telecalls to provide business success and growth advice for start-ups and established business owners around the world. To register for this exceptional event, click here.
Through a weeklong series of no-cost telecalls that will be broadcast worldwide via the web at www.billionswithoutborders.com, entrepreneurs will be empowered to optimize their business models to be more profitable and spur economic growth around the world.
Business leaders from various industries have welcomed the opportunity to join Billions without Borders and its telesummit partners, led by Endeavor South Africa (part of Endeavor Global, a non-profit organisation that identifies and supports innovative, high-growth entrepreneurs in emerging markets), who host GEW in this country and held a media launch last week for participating parties.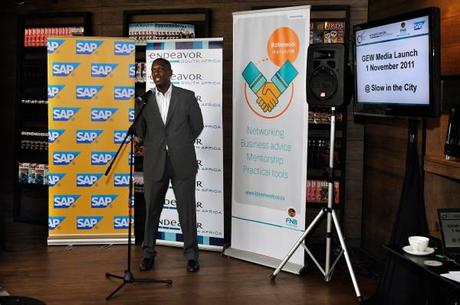 Malik Fal, MD of Endeavor SA - addressing the media for GEW 2011
Malik Fal, MD of Endeavor SA, was joined by Derek Kudsee, CEO of SAP Africa and Sanjeev Orie, Head of Acquisitions for Business Banking at FNB, the two key sponsors of GEW 2011 in South Africa, along with speakers from our various partner organizations. You can find out about national events here.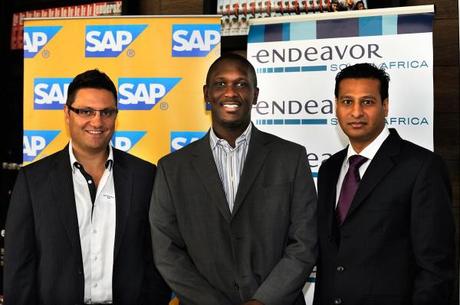 Derek Kudsee, Malik Fal & Sanjeev Orie at the Media Launch for GEW 2011, South Africa
Billions without Borders Telesummit contributors include Malik Fal, as well as CEO of Virgin Unite Africa and the Branson Centre of Entrepreneurship Tracey Webster, Millionaire Success & Wealth Consciousness Mentor David Neagle, CEO of NFB Financial Services Group Mike Estment, Certified Meta-Coach, Author and Director at Coaching Unity International Tim Goodenough, Vox Telecom Group Managing Director Douglas Reed, Success Coach, Speaker and Creator of The Esther Experience Gina DeVee, and Michelle Salater, President of Sūmèr, LLC and co-founder of Billions without Borders.
During the daily telecalls, these thought leaders will offer advice that will benefit start-ups and established businesses alike, ranging from tips on finding investors to strategies for building wealth consciousness and maximizing the Internet's marketing potential.
We strongly believe that entrepreneurs are the engines of economic recovery. Our goal through this weeklong telesummit is to offer aspiring and established entrepreneurs the tools to achieve that success.
Attendees will have access to the telecalls for a full month following Global Entrepreneurship Week and the opportunity to provide input about potential topics for future teleconferences.
The Global Entrepreneurship Week series marks the official launch of Billions without Borders, which aims to help entrepreneurs and solopreneurs around the world access the immense wealth available to them through conscious, sustainable methods.
Through similar virtual events, Billions without Borders aims to share ideas, experiences and practical advice with members of the global entrepreneurial community with help from experts and leaders in various fields. Future events will focus on issues relevant to specific target industries, according to demand from participants.
Addressing the future, Billions without Borders plans to host live events and workshops, the first of which will take place in South Africa during 2012. To learn more, or to register for our upcoming international telesummit, click here.