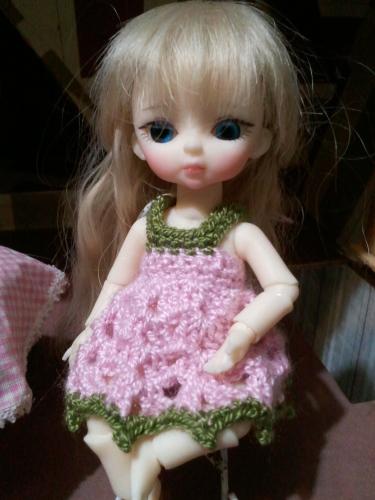 *I made an edit , I totally wrote it down wrong, sorry. Everything should be correct now.
This pattern should be easy to scale up or down for other small dolls, you just need to measure the starting chain around the doll and either add or subtract stitches. It is important though to have the number of stitches be even for the V stitch pattern to work. As for the top straps, just divide your new number of stitches by 4 the best you can and make the chains long enough to fit your doll's shoulders.
Hujoo Baby dress
This pattern is written in American terms.
- Size B / 2.25mm crochet hook
- Bernat Handicrafter Crochet Thread. It doesn't say what size it is, but it's much thicker than size 10 crochet thread and thinner than 5. It is about the thickness of sock weight, or Patons Lace.
Starting with the bodice, the pink part in the picture. Use your main color of yarn. Worked in the round, do not turn.
1. Ch 19, join. (this should leave you with 18 stitches.) Sc around.
2 & 3. Sc around. Ch 2.
4. (1 dc, ch 2, 2 dc) in next stitch, *skip next stitch. (2 dc, ch 2, 2 dc) in next stitch.*  Repeat ** around. Join to ch 2. Ch 2.
5-7. Repeat row 4. FO
Now with the contrasting yarn, if you choose to use it. Join at the bottom of the skirt where you just finished off, and sc once in every dc and (1 sc, ch 3, join to first ch, 1 sc) in all the ch 2 spaces. Join to beginning of round and FO.
Still in contrasting yarn, turn the dress right side up with the back facing you.(Note: The following "stitches" mentioned are the other side of the starting chain in pink. Sometimes when you work both sides of a chain it leaves small gaps around. Try and crochet through both loops left from the chain if you can. But if this confuses you then don't worry about it.)
Starting from the center back, join and sc in the next 3 stitches. Ch 10, skip the next 4 stitches, sc in the next 5 stitches, ch 10, skip the next 4 stitches, sc in the next 2. Join. Sc around in all the sc and across each ch 10. Join and FO. Weave in the ends. Yay, you're done!!
I hope that you can understand this pattern, and as always don't hesitate to ask if you have any questions. Also, this pattern is completely of my own creation and is for personal use only. I ask that you do not sell this pattern or the items you make from it. Thank you.
Enjoy! Some undies to go with this dress will be up very soon so follow me and check back! I love to hear your comments so don't be shy!