10. The Sims FreePlay
Play the world's most popular life simulation game!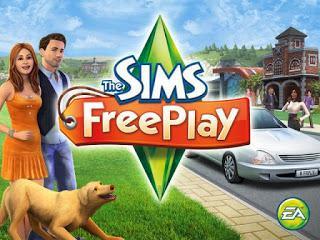 Create unique Sims, build dream homes, and let them live your way!
Customize different Sims and dress them in hundreds of stylish outfits

Have them fall in love, get married and have babies

Experience every stage of life from Babies to Seniors…and everything in-between

Build dream homes and decorate them with thousands of different items

Complete exciting quests that unlock new places in your Town 

Care for cuddly and magical pets

Live out your Sims story and play anyway you like

9. Dots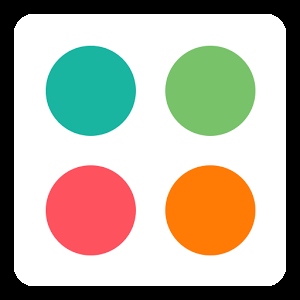 The beautiful and addictive hit game Dots is now available on Android phones and tablets!
FREE to play for life

CONNECT one dot to make a line, not a circle, or connect four dots to make a square

BEAT the old time clock and connect as many dots as you can in 60 seconds or play in moves based mode and take your time while planning strategic moves

ADORABLE, fun, and thoughtful game design in this beautiful game about connecting

ENJOY beautiful minimalistic design with relaxing game music and fun sound FX

CHALLENGE your friends to a dots match in multiplayer mode on Facebook or Twitter, beat their scores, earn badges, and be the champion of the leaderboard 

PLAY a board then pass to a friend for an ultimate one on one showdown

8. Ready Steady Bang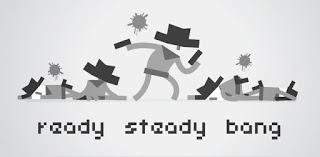 Ready Steady Bang is A beautifully addictive quick-fire dueling game. Play face-to-face with a friend on a single screen in 2 player mode or pit your trigger finger against 10 of the fastest outlaws in town.
Progress through the game to unlock 31 unique cowboy deaths, then show them off in your Kill Gallery. Are you fast enough?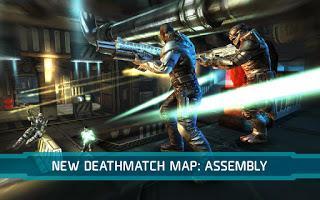 7. Shadowgun: DeadZone
The best looking multiplayer sci-fi shooter for mobile devices.
"Shadowgun: DeadZone is one of the sharpest-looking shooters we've seen." – SlideToPlay
"They've made what could be the best multiplayer shooting experience on a mobile device." – TouchGen
"If you want evidence that mobile games are turning into their console and PC cousins, then look no further than Shadowgun: Dead Zone." – Pocketgamer.co.uk
Prove your courage and challenge your friends.Experience heroic multiplayer battles that have never been seen on mobile device before.Enjoy console quality multiplayer game with awesome graphics on your phone and tablet.
Experience intense tactical multiplayer combat with up to 12 players connected online. 

Choose from two popular game modes – Deathmatch and Zone Control, various maps and from 10 playable characters

As a character's ranking increases, new elements will be unlocked and available during gameplay

New control elements such as sprint and roll have been implemented into gameplay

A wide ranging arsenal offers Assault Rifles, Machine guns, Plasma Rifles, Shotguns, Sniper Rifles, Rocket Launcher and many more, all of which are upgradable

Various items including Medi Kit, Ammo Kit, Flash Grenades, EMP Grenades, Frag Grenades, Sentry Guns and Mines

6. Modern Combat 5: Blackout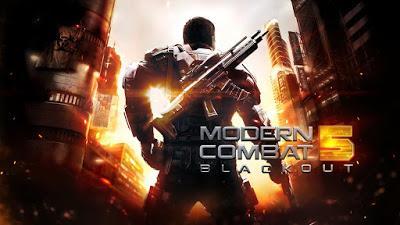 War has evolved, and so has the best FPS on mobile!
Step onto the battlefield with the game that raised the bar for first person shooters. Create a squad, add your friends and test your skills in dynamic multiplayer warfare against online rivals from around the world! Prefer to work alone? Then step into the thrilling solo campaign as you shoot your way through one dire situation after another to save a world on the brink of anarchy and expose a lunatic's apocalyptic plans.
CHOOSE YOUR FAVORITE CLASS
> 6 customizable classes that you can level up across single- and multiplayer 

> Find the playstyle that suits you: Assault, Heavy, Recon, Sniper, Support or Bounty Hunter

> Activate class-specific skills by earning and spending Skill Points
HIGH-POWERED MULTIPLAYER 
> Epic team clashes in Squad vs. Squad matches

> Talk to other players in Global and Squad Chat

> Individual and Squad leaderboards 

> Win cool rewards in the limited-time events
UNIFIED GAME PROGRESSION
> Accumulate XP and level up by playing both single-player missions and multiplayer matches

> Unlock higher-tier weapons by mastering lower-tier ones

> Customize the perfect weapon using a host of attachments and jump straight into the action
INTENSE SOLO CAMPAIGN 
> Fast-paced story missions with various challenges taking you from Tokyo to Venice

> Play the new Spec-Ops missions for a real FPS adrenaline rush

> Flawless graphics, music and voice performances perfectly adapted for a shooter game
HIGHLY CUSTOMIZABLE CONTROLS
> Intuitive, highly customizable controls so you can play the game just the way you want
Modern Combat 5 supports HID game controllers. Moga Pro is also supported, in mode B (HID Mode). 
Modern Combat 5 requires an Internet connection.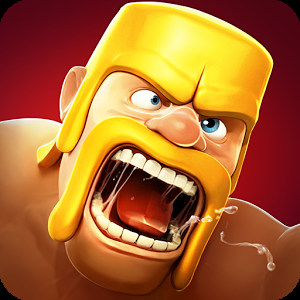 5. Clash of Clans
From rage-­filled Barbarians with glorious mustaches to pyromaniac wizards, raise your own army and lead your clan to victory! Build your village to fend off raiders, battle against millions of players worldwide, and forge a powerful clan with others to destroy enemy clans.
PLEASE NOTE! Clash of Clans is free to download and play, however some game items can also be purchased for real money. If you do not want to use this feature, please set up password protection for purchases in the settings of your Google Play Store app. Also, under our Terms of Service and Privacy Policy, you must be at least 13 years of age to play or download Clash of Clans.
A network connection is also required.
FEATURES
Build your village into an unbeatable fortress 
Raise your own army of Barbarians, Archers, Hog Riders, Wizards, Dragons and other mighty fighters
Battle with players worldwide and take their Trophies
Join together with other players to form the ultimate Clan
Fight against rival Clans in epic Clan Wars 
Build 20 unique units with multiple levels of upgrades
Discover your favorite attacking army from countless combinations of troops, spells, Heroes and Clan reinforcements 
Defend your village with a multitude of Cannons, Towers, Mortars, Bombs, Traps and Walls
Fight against the Goblin King in a campaign through the realm

4. Real Racing 3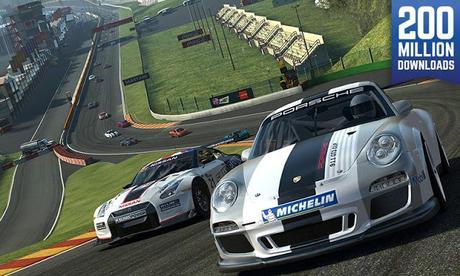 Real Racing 3 is the award-winning franchise that sets a new standard for mobile racing games – you have to play it to believe it.
Real Racing 3 features an ever-expanding roster of officially licensed tracks with 39 circuits at 17 real-world locations, a 43-car grid and over 140 meticulously detailed cars from top manufacturers. Plus Real-Time Multiplayer, Social Leaderboards, Time Trials, night racing, and innovative Time Shifted Multiplayer™ (TSM) technology, allowing you to race anyone, anytime, anywhere.
**This is a resource-intensive game featuring extremely high quality visuals. Please make sure you have at least 1.5GB of free space on your device.**
PRAISE FOR REAL RACING 3
"Feels a full generation ahead of the competition" (IGN, 9.1/10, Editors' Choice)
"A stunning visual masterpiece on mobile" (Touch Arcade)
"Sets the new standard on mobile for racing games" (Pocket Gamer, 9/10, Gold Award)
REAL CARS
Take the wheel of over 140 intensely detailed vehicles from iconic manufacturers like Ford, Ferrari, Lamborghini, Aston Martin and Mercedes-Benz and test your skills on an authentic 43-car race grid – the most epic racing experience on any handheld.
REAL TRACKS
Burn rubber on a full lineup of 17 real tracks in multiple configurations from top worldwide locations, including Silverstone, Hockenheimring, Le Mans, Dubai Autodrome and many more.
REAL PEOPLE
Go bumper to bumper with friends and rivals in global 8-player, cross-platform, real-time racing with drafting. Or drop into any race to challenge their AI-controlled versions in Time-Shifted Multiplayer™.
MORE CHOICES THAN EVER
Compete in over 4,000 events including Cup races, Eliminations and Endurance challenges. Choose from a wide range of upgrades to maximize your car's performance. Customize your car with a huge collection of paints, vinyls and rims. View the action from a variety of camera angles, tweak the HUD and fine-tune the controls to your personal preference.
THE PREMIER RACING EXPERIENCE
Powered by the remarkable Mint™ 3 Engine, Real Racing 3 features detailed car damage, fully functioning rear view mirrors, and dynamic reflections for truly HD racing. Enjoy a rich, next-gen game with the most advanced cross-platform social and competitive racing community ever. Real Racing 3 delivers it all and pushes the boundaries with every update.
RACE AROUND THE CLOCK
Exclusively for the Apple Watch, activate your Team Driver to race events, collect rewards and progress your career.

3. Dead Trigger 2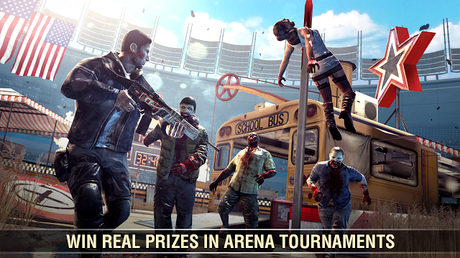 BEST ZOMBIE SHOOTER EVER

Take your part on saving the world and win unbelievable real prizes in specially designed tournaments. Earn the money every day from oil fields!
*50+ Millions survivors from all over the world are now part of Global Zombie Warfare!*
*Join them and begin the mega fight for your life.*
"Hours of fun in marathon sessions or short bursts." - Gamezebo
"The gap between mobile and console gaming is shrinking substantially." - 148apps
"The game is improving upon everything that made the first title great." - Arcade Sushi
Download Dead Trigger 2 for FREE and enter a dark world where humanity is engaged in the ultimate battle for survival in the face of a global Zombie apocalypse.
MASSIVE, CONTINUOUSLY UPDATED CONTENT. EVOLVING STORYLINES.
Dead Trigger 2 is constantly evolving and expanding. Every update features new content intended to make your game even more enjoyable.
Travel across 10 regions in different parts of the world.

Explore 33 unique environments.

Grab your favorite Zombie annihilator from 37 kinds of weapons.

Go for the action in more than 600 gameplay scenarios.

2. Call of Champions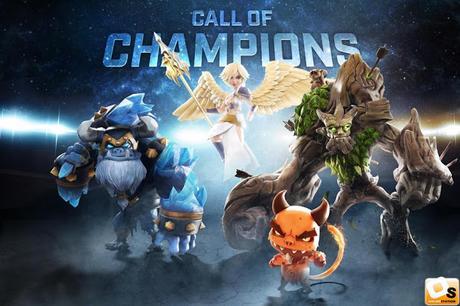 Call of Champions is the most intense real-time multiplayer battle arena (MOBA) on the phone and tablet. Choose a Champion, recruit a team, smash the enemy, and compete against millions worldwide!
The heart-pounding five-minute matches in Call of Champions distill the best of old-school MOBA mechanics like lanes, minions, and item shops into fast-paced tactical brawls, game-changing power-ups, and a tug-of-war with an Orb of Death.
Featuring over 15 Champions with fully customizable talent trees, as well as an innovative A.I. that fills in if you need to take a call or text, Call of Champions is the MOBA perfected for mobile devices.
Game Features:
 FREE TO PLAY FOREVER! 

Compete around the world in lightning fast strategic five-minute matches.

Receive a FREE Champion in your first week of play ($4.00 USD value). 

Unlock and command over 15 Champions spanning five iconic classes and eight unique Realms.

Push the "Orb of Death" on a track in a thrilling tug-of-war to take down towers. No waiting on minions. 

Grab power-ups for yourself or fight for board control to share power-ups with your team. No item shop required.

Customize your Champion to suit your playstyle through a novel Talent Tree.

Watch friends and pros duke it out in Spectator Mode. Follow players, Pause, and Instant Replay. You control the playback!

Never lose a game to drops. A.I. instantly fills in for players who need to take a call or reply to a text.

1. Asphalt 8: Airborne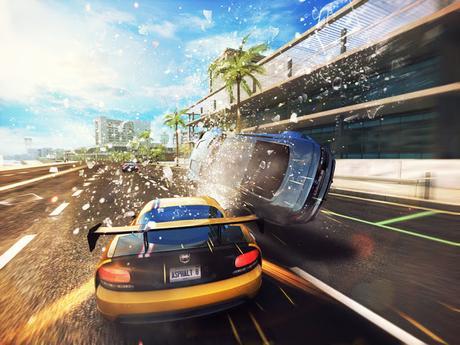 CELEBRATE THE 2016 EUROPEAN TOURNAMENT IN ASPHALT 8! DEDICATED LIMITED-TIME EVENTS, EXCLUSIVE PROMOTIONS, AWESOME REWARDS... STAND UP & REPRESENT YOUR NATION! 
200 MILLION PLAYERS CAN'T BE WRONG!
TAKE A SPIN WITH THE FRONTRUNNER AMONG MOBILE RACING GAMES!
LEAVE GRAVITY IN THE DUST!
140+ OFFICIAL SPEED MACHINES: Ferrari, Lamborghini, McLaren, Bugatti, Mercedes, Audi, Ford, Chevrolet… We got 'em all! 

STUNNING GRAPHICS: Interactions between the vehicles, environments & tracks are a fully physics-based experience! 

ARCADE GAMEPLAY AT ITS FINEST: Feel the thrill of gravity-defying racing across 40+ high-speed tracks!

THE ULTIMATE MULTIPLAYER RACING EXPERIENCE: Race in real-time multiplayer action for up to 12 opponents & dare your friends to ghost races!

WIN BIG: Participate in our Limited-Time Events to stack up amazing & exclusive rewards! 

MASSIVE CONTENT DEPTH: 400+ career events, 1,500 car mastery challenges, 5 unique game modes, car collections. An endless stream of single-player content!

CUSTOMIZE & UPGRADE YOUR RIDES: With over 2,300 decals, take down your opponents with style!