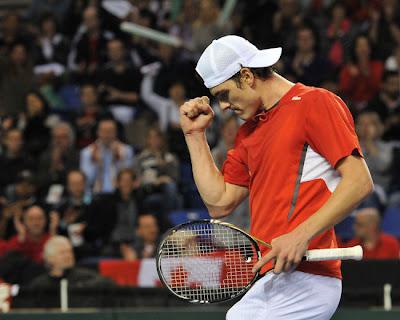 Frank Dancevic in Miami (AFP Photo/Don MacKinnon)
A few years ago Frank Dancevic was the top ranked Canadian male tennis player with a ranking of 65th in the world. He had huge wins over Roddick, Del Potro and Verdasco, and Pete Bodo affectionately referred to him as "
the poor man's Federer
."
Unfortunately, Dancevic suffered from a few
injuries
, dropped in the rankings, and was replaced by Peter Polansky and, of course, Milos Raonic, as the next big thing in Canadian tennis.
I've always been a big fan of the way Frank plays, and I had the opportunity to watch him practice two years ago at the Rogers Cup, so I was excited to see that he had qualified for the Sony Ericsson Open, and then won his first round match against Jeremy Chardy.
Next up for Dancevic is American Mardy Fish. Dancevic will need to play his very best if he wants to move into the next round, but it's definitely possible—especially since Frank is coming into the match on a 10-match winning streak and Mardy hasn't been playing all that well recently.
It would be great for Canadian tennis to have another strong male in the mix, so I'm hoping Frank can keep it up and win a few more matches.