Recipe Number Ninety Nine:  Page 269.
I have hazy memories of my one and only attempt at a frangipane tart; it must have been around 15 years ago! I'd pestered my mom to come on some baking workshops with me. I was desperate to go but didn't want to go alone. My school friends were too busy daydreaming about the Backstreet Boys to care about baking!! My mum, an unenthusiastic baker, dutifully but more than a little reluctantly came along. However, I think she would agree that she rather enjoyed it and surprised herself with her tasty creations. One of the things we had to make was a frangipane tart. I remember finding it rather challenging, mainly due to the dreaded sweet pastry. Both my mom and I enjoyed eating the end result. It was delicious but, due to the pastry, I never ventured to make it again.
I had bought the ingredients earlier in the day and, for a change, I managed to get all that I needed at the village shop! After acting as a human ladder for my little boy - climbing is his new source of fun - I took Isaac upstairs for his nap. I then headed straight for the kitchen; best not to sit down or I'd perhaps never get up again! Although I was quite looking forward to having another go at making frangipane, I couldn't help feeling a little worried!!
First of all I needed to make the sweet pastry. I weighed out the plain flour and then added to it a relatively small amount of butter. Thankfully I had read through the recipe earlier and had seen that the butter needed to be soft. It was a good job that I had taken note and left it out of the fridge. I rubbed the butter into the flour and then stirred in some sugar. I had a very close call when I came to add the egg yolks to the breadcrumb like mixture. While cracking an egg I knocked the box of eggs off the worktop. I'd never realised what wonderful reflexes I possess! At lightning speed I lifted a knee to break the fall and grabbed the wayward box with my other hand, phew, it could have been VERY messy! I mixed in the egg yolks and then brought the mixture together to form a soft dough. Once I was happy that my dough was suitably smooth, I wrapped it in some cling film before placing it in the fridge. I had to leave it to chill for half an hour. I had just enough time to watch an episode of Friends whilst tucking into my lunch; it's a hard life!
With a full tummy and my laughing muscles well exercised, I headed back to the kitchen and took the nicely chilled dough out of the fridge. Now the part I find so tricky about sweet pastry is rolling it out; it gets very sticky very quickly. I had trouble with a previous sweet pastry recipe and a kindly person left a comment on my blog to advise rolling the pastry between two sheets of cling film. This stops you using an excessive amount of flour to stop it welding itself to the worktop! I found this method to work very well and it did indeed stop the problem. However, I did find it hard to judge how thick the dough was. I was so worried about the pastry being too thick that I ended up making it rather on the thin side and it looked ever so untidy in the patty tin. I endeavoured to tidy things up but ended up making things worse, so I left it looking a mess and told myself that it looked quirky!!
I put the tray of half made tartlets into the fridge whilst I made the frangipane filling. This was very easy and straightforward to make. I simply had to beat some butter and sugar together in a bowl before adding some beaten egg. I was instructed to add the egg a little at a time. It was difficult to add just a little, as the whole lot desperately wanted to jump in, all in one go!! Once I had mixed in the egg, I ended up with a rather unattractive lumpy mixture. However, after I had stirred in the ground almonds, it looked much more pleasant. Last of all I needed to add some drops of almond extract. I should have been more organised and located it before I made a start, but I don't like to make life easy! I climbed onto a chair and rummaged through the kitchen shelves. In my search I found three bottles of half used vanilla extract. Every cloud.......! Just as I was about to admit defeat I caught sight of an unopened bottle of almond extract. It had been hidden behind the gravy granules; there is no order to my kitchen shelves! I added the few drops of extract and gave the mixture a final stir before retrieving the by now cold tray of pastry. I spooned a heaped teaspoon of almondy mixture into each tartlet. It didn't seem a very generous amount but I hoped it would puff up a bit in the oven. As a finishing touch, I sprinkled some flaked almonds on top of each tartlet and then put them into the oven. They only took fifteen minutes to cook and, as I predicted, the thin edges of the pastry burnt! I left the tartlets to cool off for a few minutes before attempting to extract them from the tins to cool completely. I have to admit that I couldn't resist for more than five minutes before gobbling down a tartlet. It was yum! The pastry was perhaps a little thin, but nicely cooked. The filling was slightly cakelike in texture and the flavor of almonds was just right; I had worried that it might be a little overwhelming. In my haste to scoff the frangipane tart, I had forgotten that I needed to glaze each tartlet with some sieved and warmed apricot jam. Whoops! I quickly brushed over the warm jam and then sprinkled a line of ground almonds around the edge of each tartlet for decoration. I decorated a half with ground almonds but decided to the leave the rest as I didn't really see the point of it; I preferred it without! Even though I find sweet pastry to be fiddly, I think on this occasion it was worth the faff as frangipane tartlets are delicious!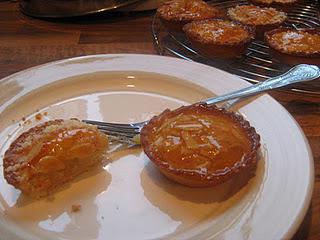 On another note, I thought you might like to know that the box of eggs was doomed! The following day my little boy was eating breakfast in his high chair. I turned my back for a second (I never learn) and the little pickle pushed the eggs from the worktop and onto the floor! Two eggs are now no more and it took me ages to clear up the mess, yuck! I think Isaac thought it necessary to test Mummy's reflexes again, just to be sure. Well, it is pretty clear that my reflexes are back to being pathetically sluggish!!