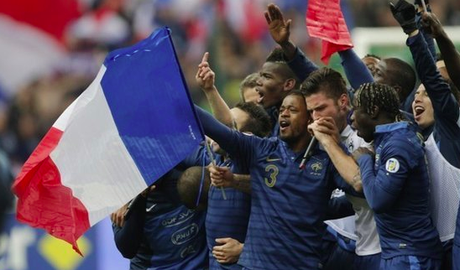 It's fair to say that France's national team has been one of the most entertaining sides when it comes to their off-field antics in the past few years, but after their 3-0 home victory there seems to be a possibility of some on-field entertainment as well. After hearing the statistics of Ukraine's sturdy defence, and knowing that never before had a team overcome a 2-0 deficit to qualify for the World Cup, the uncertainty around France's chances were genuine. However with a variety of tap-ins and own goals, Deschamps has been given a lifeline. Just enough of a lifeline to reach the same tragic end as Raymond Domenech did in 2010.
While we'll be looking at the French team for tales of tragic fall in 2014, for the present Zlatan Ibrahimovic's exclusion from the tournament will have to suffice. In a battle between two of the biggest egos around, we were finally given a fitting spectacle as Portugal sealed their qualification winning 3-2. The only names on the scoresheet were those of Zlatan and Cristiano, and although the big Swede shall be missed in Brazil, it seemed impossible not to have Ronaldo there. Now having knocked Ibrahimovic out of the World Cup, and with Messi sidelined due to his hamstring (although he did pick up his 3rd golden boot recently), Ronaldo is really pushing to be the top name for this year's Ballon d'Or.
The teams that have managed to qualify along with France and Portugal are Greece and Croatia, the latter with a defender stirring up controversy. After having received three yellows in 2006, Simunic is raising his levels of troublemaking from Tom and Jerry-esque fooling of Graham Poll to pro-nazi chants in celebration of his nation's qualification. When asked about them, he didn't seem to show any remorse or awareness of the rather heightened level of discomfort he could be propagating with his chants, and instead felt that people should study their history better.
There's the general hope that FIFA will awaken from their usual dull daze to address this issue, because honestly, it would be great to have a World Cup without Nazism. However that might all have to wait for a while, as Sepp seems to be worrying about work condition issues surrounding Qatar and the 2022 World Cup. Perhaps our constant criticism of the one man able to keep the sanctity (or the little that remains) of the World Cup intact should be directed to those that exploit workers and start pro-Nazi chants, although, it seems that Sepp's workload (and the criticism he receives) will not be lightening anytime soon.