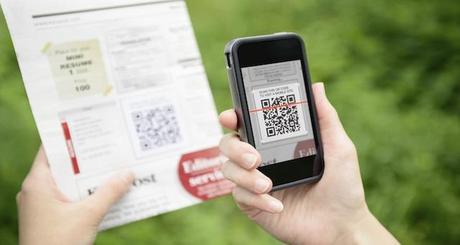 The key to boosting sales could be the speed at which you reach customers on the go.
With more than half of adult U.S. consumers now owning smartphones, according to the Pew Research Center, integrated marketers can't afford to overlook mobile marketing as part of the mix. The goal of any mobile program should be to motivate consumers to interact with your brand, such as buy a product, visit a website or ask for more information.
To get in on the action, the direct-response strategists at Acquirgy suggest turning to the abundance of apps available today that allow you to measure return on investment.
Here are four ways to get started:
1. QR (Quick Response) Codes are matrix barcodes that marketers can place in print advertisements, outdoor promotions, in-store on shelf displays or on product packaging. Learn more about this technology by reading our post, "QR Codes: Best and Worst Practices."
2. StarStar Numbers combine a toll-free number, a web address and a short code into one simplified number. They function much like QR Codes, but instead of scanning a code, a consumer dials a 1-15 digit string to receive a call, text message, video, coupon or app. This is a great solution for TV viewers watching ads.
3. Shazam is a mobile listening app that scans several seconds of a song or digital audio clip, recognizes it and then provides programmed information about that song or clip. Integrated marketers can use this technology to give TV viewers or radio listeners the opportunity to get more information.
4. SMS (Short Message Service) is a text messaging service for use on any text-enabled mobile phone. Although this is an older technology, you gain the ability to push information to consumers after their initial engagement. SMS permits re-engagement with consumers, unlike the other apps. Before you consider an SMS campaign, however, read our primer, "Six Big Mistakes to Avoid in SMS Marketing."