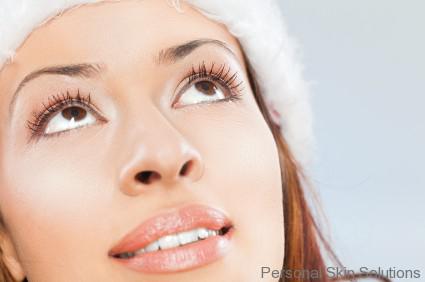 The holiday season is in full swing, and the general insanity of this time of year makes it nearly impossible to get everything for the holiday done, let alone any type of self-care. You deserve more than that, so here are four quick and easy suggestions to help you look radiant through the whole season.
Have a facial once a week
A facial is a gift that you give to your skin. Facials make it possible for your skin to shed its dead layers, absorb products more efficiently, and breathe easier.  A good facial creates better circulation of the blood and oxygen to the skin.  These physiological benefits create a skin surface that is glowing and radiant.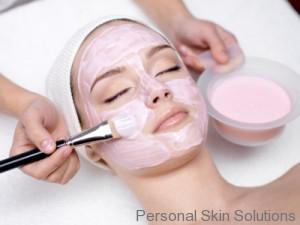 A basic holiday facial can easily be done at home: however you may want to have a least one professional treatment as a gift for yourself.  If you don't have an esthetician, you can find one at SpaFinder Call ahead and find out if they have any holiday specials – believe it or not, the holiday season can be slow for the spa industry.  Learn how to do a facial at home here.
Create an emergency "pick-me-up" kit
This skin care (and grooming) kit should be small, portable, and flexible—that way you'll have it and use it when that little holiday emergency occurs.  At the very minimum you should have:
Eye drops:  Going in and out of buildings with heating can cause the blood vessels to dilate a bit.  Smoky environments from wood burning fireplaces can also irritate.  You will want a small bottle of eye drops to get you through.  As a bonus, eye drops can do double duty as a gentle eye-makeup smudge remover.  Instead of using soap for that quick touch up, put a few drops of saline solution on a cotton swab and erase those smudges away.
Eye cream: Eye cream can instantly make your eyes look more refreshed, and give the illusion of dewy, healthy skin.  Double duty tip: Eye cream makes a FAB lip cream for your chapped lips.  Simply apply and follow with your lipstick or gloss.
Pimple spot treatment. Yes, at any age a small breakout can ruin our day.  Put this in your kit and apply it only to the spot that needs treatment.
Concealer (in the right shade for you):  Concealer really should be called Magic Stick – it is great for every little touch-up you can imagine…dark circles, lip primer, and a break out mask, to name a few.
A 1 oz. spritz bottle of toner: Two or three quick sprays of a toner will result in immediate hydration, causing your skin to look youthful and fresh.  A toner rich in antioxidants is preferable for all the active ingredients, but in a pinch, distilled water will do.
Peppermint Lip balm: In addition to protecting lips from environmental distress,The scent of mint can help the mind focus.  Apply a little if you start to feel dull.  Also, lip balm can be used as a cuticle smoother in a pinch.

Add a weekly "do-it-yourself" face massage to your routine
Massaging your face creates a rush of blood and oxygen to the area of contact.  This stimulation assists the skin's process of absorption, and elimination. A gentle facial massage helps to break the oils that create surface tension, and accelerates product penetration by stimulating the cells into better acceptance of the active ingredients.  Massage also helps to release pent-up toxins from the various layers of skin.  The result is skin that is receiving more oxygen, creating the tell-tale glow of well cared for skin.  A face massage is very simple to do and does not need to be time consuming to be effective.
Hydrate, Hydrate, Hydrate
You knew I was going to say this, but instead of requiring you to drink even more water than the 64 oz. I know you already consume a day (wink), I'm going to suggest ways that you can EAT your water. The following is a list of foods having a high water content that you can snack on during the day to offset dehydration—oh yeah, they can also be high in antioxidants, fiber, and minerals too!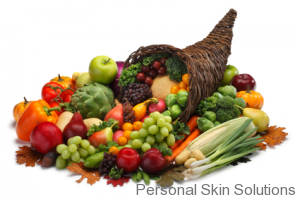 celery                              cucumber
iceberg                            lettuce tomato
radishes                         zucchini
broccoli                          cabbage
cauliflower                    eggplant
spinach                          cantaloupe
watermelon                   strawberries
Follow these tips, and your skin will glow throughout the season.  May your holidays be filled with good times, and love.