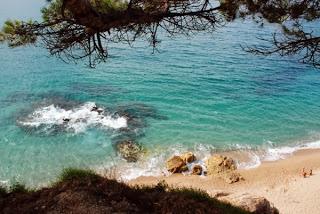 Mar Menor (literarily smaller sea) is actually a giant lagoon situated in the south-east of Spain near Cartagena and separated from the Mediterranean Sea by a 22km long sandbar. With an area of nearly 170km², warm, clear water and its famous high salinity which gives it a magical flotation quality, Mar Menor makes watersports a breeze.
When not catching the breeze over the crystal waters, stroll along the promenade in Los Alcazares, enjoy a meal on the waterfront, or put in some rounds on the greens. Looking for a good hotel, check out the Mar Menor Resort which is central to everything.  (Photo "Spanish Coast" by Tallia22)
Harness the Wind
If you've always been keen on the idea of learning to sail, a holiday on Mar Menor is the perfect opportunity to get your sea legs. There are brilliant schools offer sail-dinghies, high-performance blade riders, Laser Bahia and SB3 keelboats.
There are plenty of windsurfing schools here too (or rentals if you want to go it alone). Most classes will have between 1 to 6 students and you'll be surprised by the progress you make in just one lesson (it's probably all you need).
Feel the Need for Speed
The flat waters of Mar Menor are a speed boats and jetskiiers dream but there is one catch here- you must have a license to drive a powerboat or jetski valid in Spain. You won't be able to hire a boat or equipment without them.
But if you need to hire a boat with a skipper, make the most of it and let your driver show you the best spots, while you enjoy the exhilaration and concentrate on staying upright.
Explore the Underworld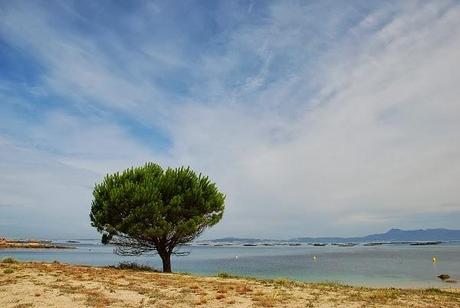 Experienced, qualified snorkellers and complete beginners love the Mar Menor. The waters are clear, shallow and home to a variety of species. These waters are a particularly a great introduction for kids because of the lack of waves and great flotation.
There are plenty of PADI diving shops in the area such as the one at La Manga Club where you can hire gear or enroll to get your qualifications. Kids can enjoy 'bubblemakers' an introduction to diving with an emphasis on safety-first. (Photo "Tree In the Beach" by saavem)
T-off on the Greens
If you want to keep dry for a day there is a challenging 18-hole Jack Nicklaus golf course. The Mar Menor Golf Course is located just 10 minutes from Murcia San Javier airport and is adjacent to the Mar Menor Resort as well as luxury villas and apartments holiday. It's a lovely groomed area of immaculate lawns and perfect palm trees.