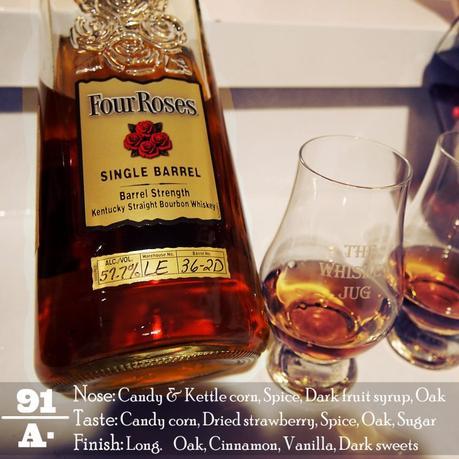 Four Roses Single Barrel LE 36-2D is an OBSQ barrel picked by Nasa Liquor in Texas. This latest pick by them falls in line with some of their previous picks like their tasty Knob Creek barrel 1910 and their awesome Knob Creek barrel 1911. Those were some quite tasty KC picks so when the opportunity sprang up to get a bottle of their OBSQ pick, and their OBSV pick, I was all over it.
My same TX based buddy from last time hooked me up and when they arrived I opened them at the office and gave some of my whiskey drinking co-workers a taste to see what they thought of them. Without prompting or telling them anything about them except that they were from separate barrels they quickly identified two things. #1 They were both awesome and #2 The OBSQ came across sweeter than the OBSV, which was spicier. I'll be reviewing the OBSV on Thursday, but for now we're taking a look at this fun little OBSQ – Four Roses Single Barrel LE 36-2D.
Four Roses Single Barrel LE 36-2D Info
Region: Kentucky, USA
Distiller: Four Roses
Mashbill: OBSQ (60% Corn, 35% Rye, 5% Malted Barley)
Cask: New Charred Oak
Age: 8 Years and 9 Months
ABV: 57.7%
Cask Strength | Non-Chill Filtered | Natural Color
Warehouse: LE
Barrel: 36-2D
Price: $65
Four Roses Single Barrel LE 36-2D Review
EYE
Caramel
NOSE
Full notes of candy corn, kettle corn, spice, dark fruit syrup, oak, baking sugar, candied orange peels, cocoa and a hint of floral sweetness. It's a nice warm aroma.
PALATE
Candy corn, dried strawberries, spice, oak, baking sugar, sweet vanilla and buttercream frosting with a touch of caramel. Warm and comforting in a bourbony kind of way.
FINISH
Long and oaky with spots of cinnamon, vanilla and dark sweets.
BALANCE, BODY & FEEL
Well balanced, full body and a rich heavy feel.
OVERALL
I love Four Roses. I love Four Roses Single Barrels. I love Four Roses Single Barrel, cask strength, store selections even more and this Four Roses Single Barrel LE 36-2D picked out by Nasa Liquor in Houston, TX is absolutely no exception. Thick and full of sweet notes paired with heavier spice and oak notes that bring about a nice sense of depth and balance it's the kind of whiskey I expect to come out of Four Roses.
If you're a Four Roses fan and you live in Houston, or have a friend who does, I'd recommend one. This, and the OBSV I'll be reviewing in 2 days, have both become my go-to after-work bourbons over the last week. I'll definitely be enjoying this one to till the last drop.
SCORE: 91/100 (A-)