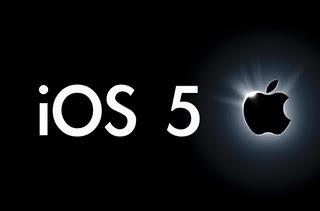 If you have updated your iPad to the new iOS 5 there are one or two new tricks that streamline navigation and speed up word processing.
All of these tools are built into the new operating system so you can start using them straight away.
My favorite four new features, of which only two are available on the iPad are.
1. Multitasking gestures
With the new iOS 5 you can bypass the Home button as you can navigate and manage your iPad using multitouch gestures. To enable these gestures firstly go to Settings > General and turn on the multitasking gestures at the bottom. There are three navigation gestures and they are:
Anytime that you are in an app if you pinch with four or five fingers you will return to the home screen.
If you want to access the multitasking bar that is usually accessed by double clicking the Home button, you just need to swipe up with four or five fingers
If you swipe either right or left with four fingers you will navigate through the open apps instead of switching with the multitasking bar.
2. Text shortcuts
Composing emails and messages has just got easier with the new AutoText feature. If you go to Settings > General > Keyboard and scroll down to Shortcuts you will see a shortcut for "On my way" is already there. To create a new one all you need to do is tap "Add new shortcut"
3. Text with thumbs
If you have an iPad you will know that it is not that easy to text while you are stood up. Now it is a lot easier with the new split keypad feature. This is how it works:
When the keyboard is prompted all you have to do is pull it apart with your thumbs, or you can long press the keyboard button (bottom right) and select Split.
To revert back to the regular keyboard just push it back together with your thumbs, or, as above long press the keyboard button and select Merge.
You can also undock the keyboard if it's in the way of something that you you would like to look at on the screen, just long press the keyboard button and select Undock. You can then split the keyboard if you like.
4. Definitions Everywhere
iOS 5 now has a built-in quick access dictionary. If you cam across a word that you don't understand, just long press it and select Define. A window will then pop up with the complete definition.
Please subscribe to this blog for regular updates.
If you have any comments to make or would like help with anything on this post please visit our 
Forum
 and I will try my best to help