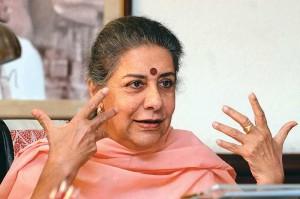 Ambika Soni was among the five Indian ministers resigned ahead of Cabinet reshuffle
Following the footprints of External Affairs Minister SM Krishna, four more Indian ministers have stepped down ahead of Sunday's Union Cabinet reshuffle.
The fresh quitters include Information and Broadcasting Minister Ambika Soni, Tourism Minister Subodh Kant Sahai, Social Justice and Empowerment Minister Mukul Wasnik, and Minister of State for Social Justice and Empowerment Mahadev Khandela.
All ministers tendered their resignation to Prime Minister Mahmohan Singh on Saturday.  The much-anticipated reshuffle, which could be the last before the 2014 Lok Sabha elections, will be held tomorrow at 11:30 A.M.
According to sources, the reshuffle will aim to bring in fresh faces to spruce up government's image, which has been muddied by corruption allegations.
Senior ministers like Kamal Nath, Salman Khurshid, Anand Sharma, and Ambika Soni are the strongest contenders for the post fell vacant by .Krishna, who is likely to work in Karnataka to consolidate the party ahead of state elections in May 2013.
Speculations are still circulating about Rahul Gandhi's potential inclusion in the government but the sources close to him have ruled out such possibility as according to them he is still reluctant to join the government.
Union Cabinet reshuffle was essential after Trinamool Congress quit the United Progressive Alliance (UPA) and the government last month. The West Bengal-dominant party had six ministers in government.