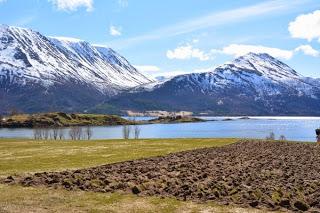 Most of the popular camping grounds in Norway are along the southern coastline with their own beach, playgrounds, swimming pool, and 5 star quality facilities including spas and saunas.  But if you are looking for something wilder you can find camping grounds that are secluded further into the mountains. It's good to ask around amongst the Norwegian campers- a lot of the information about these are not online or only in the Norwegian language. If heading away from the comfy camps in the south to commune with nature it's a good idea to be prepared with extra weather gear from home and a good place to check out camping gear at up to 70% off retail is The Clymb.
Things are slower in the wilds of Norway, the air is fresh and you can get close to wildlife such as elks and beavers. There are opportunities to fish in the sea or in the lakes and then cook it up for dinner, as well as hiking, kayaking and rafting. (Photo "Norwegian Coastal Landscape" by torepaul)
Kristiansand Feriesenter
One of the most popular camping sites and a good introduction to Norwegian camping culture is Kristiansand Feriesenter, near Kristiansand in Southern Norway which is easily reached from Hirtshals, Denmark, by ferry. Here you'll find camping with tents, trailers and caravans, and it's packed out in the summer.  Situated by the sea, activities include scuba diving, kayaking, boat rental and a spa.
Hallingdal Feriepark
Another family orientated and rather luxurious camping spot is Hallingdal Feriepark in Eastern Norway with swish cabins, caravans and mobile homes, plus spaces to bring your own.  There are zip-lines, a petting-zoo, walls climbs and a large multi-level playground for kids, plus canoeing, a restaurant and even a spa offering massages. Hallingdal Feriepark is open all year round and is situated close to the half-way point between Bergen and Oslo, a convenient spot on your way east or west.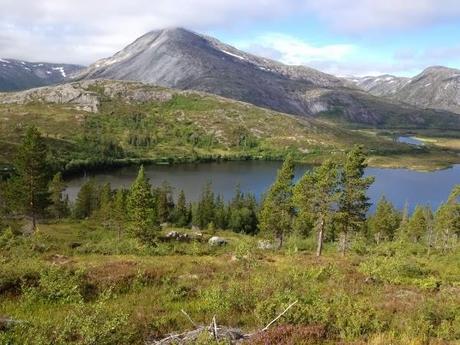 Moysand Family Camping
Also in the area and one of the oldest (but constantly updated) campsites is Moysand Family Camping. It was founded in 1929 and is located 7 km east of Grimstad and 3 km west of Arendal. It's also convenient to the Animal and Leisure Centre at Kristiansand (about half an hour drive) and their lots of trails for hiking.  (Photo "Norwegian Mountain Landscape" by torepaul)

Grindafjord Feriesenter
Grindafjord Feriesenter outside Haugesund is situated in rolling terrain and each camping spot is hidden by nature giving you a taste of the real wilderness that lies beyond.  For more outdoor adventure we recommend that you head to a campsite like this and speak to the locals. Be prepared with your own fishing or hiking gear because renting is scarce and inconvenient. Locals or fellow campers can give you advice on smaller, lesser known campsite in the Norwegian wilderness.