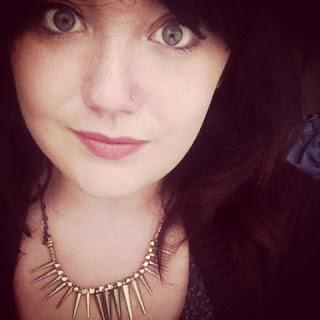 Excuse the awkward horrid smile!
Why hello there.. 
Just a quick post today showing you my makeup look and the products I used. Today I went for a very basic look, as I was not doing much but fancied playing around with makeup. I was in one of those moods that everything I applied I ended up scrubbing off and starting again. I still cannot get the hang of contouring which is really starting to frustrate me.
I'll start with my base, which is Benefit's Porefessional - I recieved a sample of this from my local Benefit counter and I love it! It's perfect for creating a smooth base and doing exactly what it says on the tube. On my dark eye circles, I have Rimmel Wake Me Up concealer in Ivory. I also have this dotted around my chin area as I seem to be having terrible breakouts. On my eyes I have my staple Loreal Superliner in Black, creating a slight winged eye or rather a poor attempt at winged liner. For my lashes, I have Max Factor False Lash Effect mascara on my upper eyelids and Collection's Longer Lash on my bottom lash line. I am wearing my Topshop blusher mentioned in my last post in the shade Head Over Heels, I applied this blusher with my fingers and blended it out using my ELF blusher and bronzer brush. 
Last but not least my lipstick for this look was MAC Brave. I love this lipstick and I think it suits many different skin tones. It's "your lips but better" shade and has a creamy finish. I am wearing a light layer of Barry M Clear Gloss on top, just to keep my lips moisturized in the colder weather. 
I stuck with basic curly hair today, done with my GHD's and a helping hand in the form of hairspray. The necklace I have on was a bargain in the New Look sale a while back, at £2.50. Ofcourse, I have my silver nose stud in also which is nothing fancy!
Apologies for the basic post today, I am going shopping tomorrow so hopefully I will come back with something more interesting for you all to read :)
Keep smiling!

xx