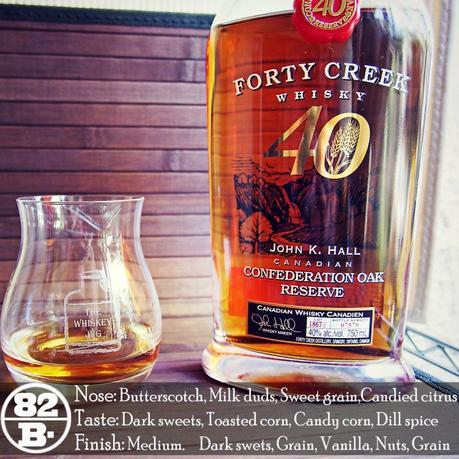 Forty Creek Confederation Oak gets it's name from the barrels it was aged in. All components of this whiskey spent some time aged in barrels made from Canadian oak trees that were over 150 years old which means they started growing before the Canadian Confederation (1867). On their site Forty Creek talks about the actual harvesting of the trees and makes it clear that they harvested these trees from…
"…a sustainably managed forest employing the principle of "no tree before its time." This forest has a mixture of young trees coming up in the understory, mature trees in full productive vigor, and old trees whose growth has slowed. These older trees block sunlight and rainfall from the younger trees and when over-matured, need to be removed."
Like with the Forty Creek Barrel Select, Master Distiller John Hall distills the corn, rye and barley separately to be aged and blended together later in what he calls his "Meritage Process". Once they're ready the separate whiskeys get blended together and allowed to fully marry in the barrels they just came out of. However, with the Forty Creek Confederation Oak that marrying process happens in toasted barrels made from the Confederation-era Oak mentioned above and lasts for 3 years.
Forty Creek Confederation Oak Info
Region: Ontario, Canada
Distiller: Forty Creek
Mashbill: Rye Whisky + Barley Whisky + Corn Whisky
Cask: ex-Bourbon Barrels & Canadian Oak Barrels
Age: NAS
ABV: 40%
Lot: 1867-E
Bottle: 07579
Price: $70*
Forty Creek Confederation Oak Review
EYE
Deep amber
NOSE
Butterscotch, milk duds, sweet grain and a light candied citrus paired with some fresh pastries. The grainy sweetness rides high throughout the aroma.
PALATE
Butterscotch-toffee-caramel hybrid (dark sweets), toasted corn, candy corn and a light dilly spice that grows towards the end. The grainy sweetness is a bit more oily here and gets a touch more balanced out by the slightly heavier spice when compared to the nose.
FINISH
Medium and darkly sweet with some grain, vanilla and nutty notes.
BALANCE, BODY & FEEL
Balance is off due to the sweetness, a medium body and a light syrupy feel.
OVERALL
Forty Creek Confederation Oak isn't fully my style of whisky. It's a bit too sweet and runs across the senses in a way that builds to become a cloying butterscotch bomb and the only saving grace is the bit of spice that keeps it from tumbling into overly sweet one notedness. It's becoming rather clear to me that Canadian Whisky just isn't my thing.
There are some Canadian whiskies out there I love like Stalk & Barrel and Lot 40, but this blended style of Canadian whisky doesn't seem to resonate with me. The Forty Creek Confederation Oak is definitely one of the better ones I've had in this style, but for my money their Copper Pot Reserve is where it's at if you're looking to pick up one of their releases.
SCORE: 82/100 B-
*Disclosure: This sample of Forty Creek Confederation Oak was graciously sent to me by the company for the purposes of this review. The views, opinions, and tasting notes are 100% my own.