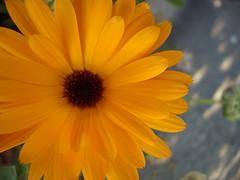 Forgiveness lesson from flowers (Photo credit: juliejordanscott)
The theme this week, the 14th week of 2012 is Forgiveness. A powerful thing
One of the best reasons to talk about forgiveness is how much good it will do for all of us – and the first person to forgive is ourselves.
What if we started this week just forgiving ourselves for all the stuff we're sorry we've done or for all the things we have not done – yet!
What if we forgave ourselves for anything that was less than stellar to even the ordinary things we don't much like that we sometimes do.
Sometime today can you say – "I forgive me." You'll feel amazing!
The quote today is short and I think powerful – it was uttered by Malcolm Forbes –
 "The only unforgivable sin: Being unforgiving."
Wow!
Remember you create your day by the way you think. Make it Magnificent!
Blessings, Shawna