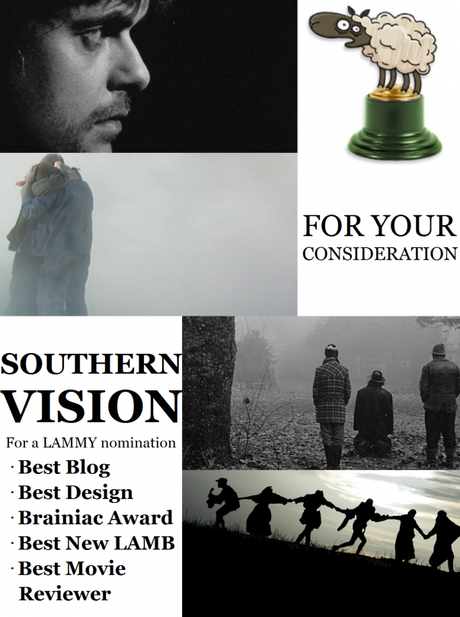 It is that time of the year. The awards' season that for many film bloggers is far more exciting than the Oscars. It's LAMMY time. What are the LAMMYs? They're awards gifted by the Large Association of Movie Blogs to blogs that win certain prizes nominated for them by other bloggers. Since I only joined the LAMB last year, I didn't have a chance in 2011 to take much interest in the LAMMYs, but I certainly knew what it was and how it works. Now this year, I've decided what-the-hell to try and convince maybe one or two people to nominate me in a category or two so that I might at least get a mention or even just a wee bit of recognition. I don't expect much to happen, and I don't expect all of my fellow LAMBs to vote for me (because let's face it, there are sites bigger and much more awesome than my little interweb foreign-film bus stop), but there's no harm in doing a FYC plug, now is there?
So, of the 15 categories in which a person could be nominated, I'm going to throw out there a few for which I think I might be worthy of consideration:
Best Blog: I don't expect anything here but since it's a rather universal category there's no harm in including it, right?
Best Design: I built up the current Southern Vision look from a WordPress template, and I'd like to say I changed a lot but I didn't. However, I am pretty proud of my banner as not only does it represent my favorite film of all time, it also represents an image that is almost universal among all film lovers and indeed people – the image of someone normal discovering something extraordinary, just like we film lovers discover great new films every day. I also like my widgets down the sidebar and my snappy post-openers that don't waste space.
Brainiac Award: Though it's been more in recent months that I've made serious attempts to make my reviews more in-depth and to use more creative language, I like to think I draw attention to all sorts of different films with language hopefully easy to understand and relatively free of mistakes. Maybe I don't get really insightful too often but I really enjoy writing at the times when I feel insightful.
Best New LAMB: I'm a new LAMB! My LAMB number is #976, which means I'm eligible for this award. I've been on the blogosphere for fifteen months and part of the LAMB for much less than that, so perhaps you think I've done well for myself in this short time? If you do think so, a tick in this box would make a world of difference.
Best Movie Reviewer: I used to be a shit movie reviewer. For all I know, I possibly still am. But I work hard on my reviews, and as my – shameless plug alert – recent 2000 word write-up on Code Unknown recently showed, I now put effort and serious thought into them. So what do you think?
I don't really have a snappy closing statement, but without being rude or shameless, I would like to say I am damn proud of what I have done with Southern Vision so far. It takes time and effort to write posts as regularly as I try to do, and I can only sit back and admire with astonishment the other bloggers who do it so fluidly and excellently as I try to do myself. I'm passionate about film, and while that might not be the best of reasons, it's a reason I think is alright.