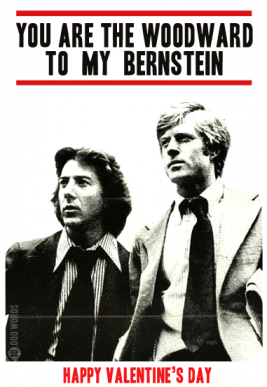 My personal favourite. Source: 10,000 words.
Dear secretly romantic reporter,
Today is Valentine's day — and since Al Capone isn't having rival gangsters shot this year, maybe it's a slow news day for you.
If so, why not peruse the scores of mass-produced sentiments written by someone else. (Okay, those weren't actually my words. I got them here.)
Options abound! You can ask someone to be "your exclusive," convince a reluctant lover to go on the record with you, or lament the loss of the ever-so-discrete dark room.
Who knows, one little valentine may even make that stony-faced editor smile.
"Dear Ed: You gave me 400 words, but I only need three "
If you're worried about how hard it would be to find professionally-tailored tokens of affection, fear not!  The good folks at 10,000 words have already done all the work for you! Behold –
Valentines for Journalists
<3 Part One
<3 Part Two
<3 Part Three
If their cards fail to move you and, frankly, you're more in love with your cynical side, check out the growing collection of anti-valentines. Sample below. Happy (or crappy!) Valentine's day!