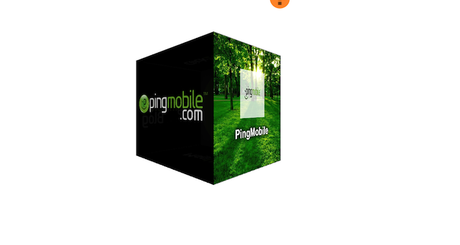 It might be too early to tell, but if claims of higher click-through rates (CTR), greater post-click engagement and bit-champing Fortune 100 brands prove true, marketing agency Ping Mobile™ may have just hit upon mobile marketing's 'next big thing.'
Bye-Bye Banners, Hello Cube?
Today's mobile advertisers typically choose from among three display ad formats. In order, from least engaging to most, they are: banners (flat, static, one dimensional); video (usually self-playing with no user controls); and the most interactive of all, rich media, of which the new spinning 3-D PingCube™ is a superb example.
Six Ways to Convert
PingCube for mobile mimics Yahoo!'s spinning cube ad unit for desktops (see samples from Samsung and other big brands here). The multi-sided format enables advertisers to present up to six content or action options. Users can jump to a landing page or website. Watch a video. Peruse special offers. Download an app. Share on social networks and more.
Communing with the Cube
To engage with the ad, users simply swipe to spin the cube around and select the "pane" they want. Compared with banners and videos, users gain greater control over their media experience.
"The PingCube is a space multiplier," said Shuli Lowy, marketing director at Ping Mobile, Beverly Hills, CA, in a recent MobileMarketer.com article.  "It allows brands to put the control panel back in the consumer's hands and lets them to choose how they most prefer to engage…"
In beta tests, when simple display ads included simulated rotating cubes, CTR nearly doubled and post-click engagement shot up to five-fold, according to a company press release.
Ready for Takeoff?
In this real-life ad-cube case study, detailed in MobileMarketer.com, airport developer and retail concessions company, Westfield, targeted mobile users in terminals at the Newark and Houston airports. Enticing and informing users six ways at once with a single ad, multiple interactive panes served up a:
Free food offer
'Like us on Facebook' link
20% discount on donuts
Link to some duty-free deals
'View all Promotions' option
Merchant directory for each terminal
Should your integrated marketing strategy include fewer banners and more rich media? Check out the PingCube web page to help you decide. Or take a quick spin around a cube ad by texting CUBE to 74642 from your smartphone or tablet. Share any ideas you gain for online/offline integration with your creative services provider.