Dear Readers:
I wanted to share with you my latest gig as 'video correspondent' for Foodable SideDish  –  featuring Chef Blaine Wetzel of  Willows Inn on Lummi Island. Enjoy!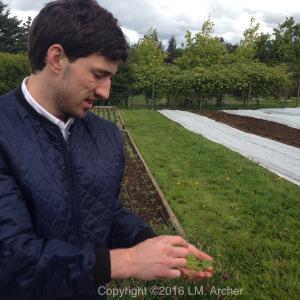 Chef Blaine Wetzel in the Willows Inn on Lummi Island sustainable garden.
http://www.foodabletv.com/blog/2016/7/27/how-the-menu-at-willows-inn-reflects-lummi-island
"The Willows Inn on Lummi Island is an experience unlike any other, calm and peaceful, separated from a busy bustling life, and so special that guests have to take a ferry ride in order to take a seat at the restaurant. What makes this restaurant even more unique? The ingredients are foraged, and if they're not found in the forests surrounding the concept, they are grown in a private culinary farm (where no produce is sold — all of it goes to the restaurant), or caught in the sea in which the island lives. The Willows Inn is a truly sustainable work of art.
In this episode of "On Foodable Side Dish," Foodable video correspondent L.M. Archer takes us to the Pacific Northwest to sit down with the head chef at Willows Inn, Blaine Wetzel. Wetzel, a native of Washington, was named Best New Chef by Food & Wine Magazine in 2012 and won the James Beard Foundation Rising Star Chef of the Year award in 2015. It's safe to say he knows his stuff.
"I'd say the menu is always a pretty accurate description of that moment in time and in nature on the island," Wetzel said, reflecting that it's not so much seasonality that determines their dishes but just the day-to-day weather.
Was it stormy one day and the local fisherman couldn't net anything at sea? Was it too cold to search the forest for mushrooms? The menu is a snapshot of the connection Willows Inn has with its environment at that exact time and place." – Foodable SideDish | How the Foraged Menu at Willows Inn Reflects Lummi Island
Watch the entire episode here.
❦❦❦
Copyrighted 2016 binNotes | redThread™.  All Rights Reserved.