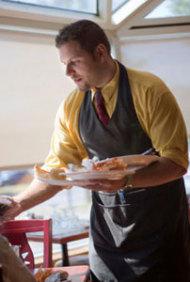 Once all guests have finished the course,clear used plates and utensils.
At times,guests will push their plates away while others are still eating.Go ahead and clear their place.Use your best judgment in their situation.
It is unclear at any point in time as to whether guests are finished,ask them in a polite manner,using phrases like: "Pardon me,may I remove your plate?" "Have you Finished?"
Do not use hard impolite phrases such as :" Are you done?" or "Can I take that?" or "Let me get that out of your way."
After clearing,thoroughly crumb the table.
Re-silver immediately with utensils that will be used for the following course.