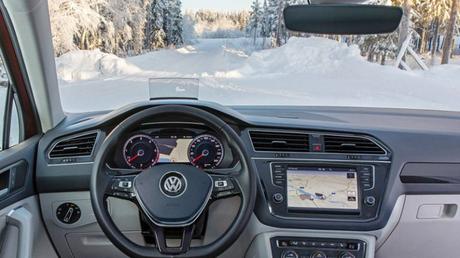 Standard
It's one of those unifying daily tasks that no one enjoys doing, especially when you're out in the freezing cold and the sun's not even up yet. We all know the drill: Bundle up in our outdoor gear. Start the car. Turn the heater to defrost and (if you have it) turn on the defroster for your rear window. Then, you get out your scraper and spend the next 5-10 minutes putting scraper to windows clearing as much frost as you can.
Well, it turns out there may be a light at the end of the tunnel after all. You might even call it a silver lining. It's an ultra-thin layer of silver sandwiched (or as the say 'laminated') between two layers of glass in Volkswagen's new climate windshield. Unlike typical heated windshields with filaments of wire running through them, Volkswagen's newest invention uses an invisible layer of silver that doesn't affect your visibility at all. Imagine that.
Right now this is only available on the Volkswagen Golf, Golf Sportsvan, Tiguan, Sharan, Passat and Passat Variant... Which means it's not actually available in the US. I did a bit of searching and I can't find any mention of it anywhere on the US Volkswagen sites. I'm think this would be a big selling point in most of the country though. Most American deal with frost frequently during the winter months.
Yes, Volkswagen is in the middle of a public relations snafu of their own making, but this could be one of those things to bring them back into our (America's) good graces. It's not even that expensive but it could save you so much time and effort. Not to mention spending less time in the cold.
I've seen a few comparisons to the Ford QuickClear system, which is again only available in Europe, that uses a grid of wire filaments to clear your windshield. I can't help but think why does Europe get all the good tech? So I looked into it... Apparently we had it in the 1990's but it wasn't popular. How strange, it seems like it would be a major selling point to me. Way to go earlier generation, why didn't you like this?
Oh, and Volkswagen says that this state of the art windshield isn't just for winter. The 'the thin layer of silver acts as a passive heat shield. As it reflects up to 60 per cent of the summer heat.' Thus reducing the interior temperature of the car by 15 degrees Celsius, or 27 degrees for those of us who live by Fahrenheit.
Prices start at €340 (approximately $363.03) depending on the model.