As big as I am on making breakfasts, i have never (gasp!) made pancakes before.
Something about the controlling of a fire on a stove with the simultaneous flippping of runny batter distress me.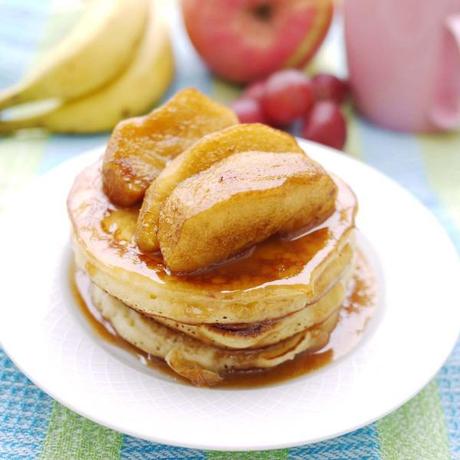 But let's not under estimate the power of lust. I was lusting after a stack of warm pancakes with a pat of butter and a drizzle of caramel, and perhaps some caramelized apples.
And against general belief, lust can be a good thing. Because lust brought out courage. I confronted my fears and conquered.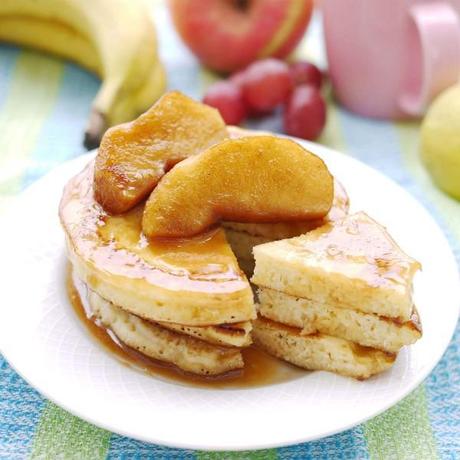 And as of today, I am a damsel freed of pancake making distress.
And i didn't need a man to rescue me from it!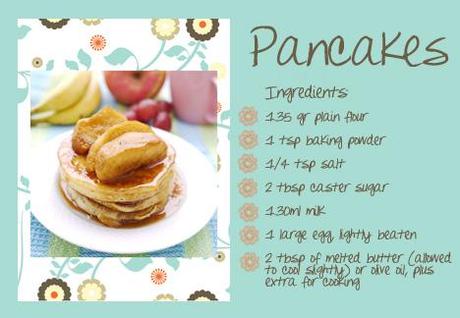 Ps: I have been trying my hands at some DIY postcards and came out with this recipe card. It's my first attempt, and i have come to realize that there are so many wonderful features and "magic tricks" in photoshop that i feel ashamed for under-using them the programme after all these years. I look forward to exploring more with it!
FLUFFY AMERICAN PANCAKES (Taken from junglefrog-cooking and BBC Good Food website)
Ingredients
135 gr plain flour
1 tsp baking powder
1/4 tsp salt
2 tbsp caster sugar
130ml milk
1 large egg, lightly beaten
2 tbsp of melted butter (allowed to cool slightly) or olive oil, plus extra for cooking
Sift the flour, baking powder, salt and caster sugar into a large bowl. In a separate bowl or jug, lightly whisk together the milk and egg, then whisk in the melted butter.
Pour the milk mixture into the flour mixture and, using a fork, beat until you have a smooth batter. Any lumps will soon disappear with a little mixing. Let the batter stand for a few minutes.
Heat a non-stick frying pan over a medium heat and add a knob of butter. When it's melted, add a ladle of batter (or two if you frying pan is big enough to cook two pancakes at the same time) It will seem very thick but this is how it should be. Wait until the top of the pancake begins to bubble, then turn it over and cook until both sides are golden brown and the pancake has risen to about 1 cm thick.
Repeat until all the batter is used up. You can keep the pancakes warm in a low oven, but they taste best fresh out of the pan.
Serve with lashings of maple syrup and extra butter if you like. *
* I served mine with homemade caramel sauce and caramelized apples.