This is the season that we see a lot of flowers. To me, flowers initiate a new journey of love. They are perfect for a date, marriage, new baby, anniversary, sympathy, funeral, and almost any occasion,
A bouquet of beautiful flowers instantly improve your mood. Flowers most likely help anxiety, depression or when you're worried. The looks and fragrance will help to put you in a better state of mind.
Flowers are most thought of as a great gift or something nice to look at, but many people overlook the benefits of having them in the home. Flowers can be a simple decorating solution. I love to add a touch of bold blooms and delicate foliage to my decor in my home. It gives that comfortable, cozy, atmosphere.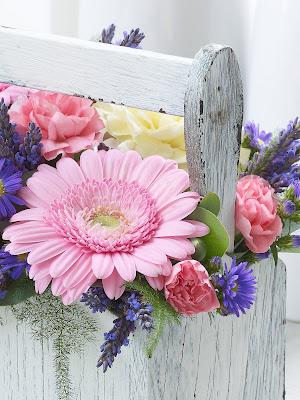 Interflora flowers
will make a great addition to any part of your home. A pretty vibrant bouquet can be placed in the center of your dining table, and easily take the place of a boring everyday table.
Interflora offers delivery to over 140 countries worldwide, via their International network of florists. Their extensive network of local florists means they can offer flexible delivery options to suit your needs. They have several delivery options: Same Day Delivery (Monday - Saturday), Same Day Express Delivery (Monday - Saturday), Next Day Delivery (Sunday - Friday), Next Day AM Delivery (Sunday - Friday), and Next Day PM Delivery (Sunday - Friday).
Today, ensure a flower delivery from Interflora for that special someone or occasion. You may just want to send a love message to that special person in your life. Instead of sending a message in the bottle, send the message with flowers.