Name:
Sarah Richardson
Twitter:
Leafy Couture
Website:
www.leafycouture.co.uk
Advice to a bride when going to her first flower consultation.
Do your homework! Bring with you some examples of what you like to help the florist get a feel of what you want for your flowers.
Bring mood boards, scraps of fabric anything that you have seen that inspires you.  Look at magazines and blogs.
Bring someone with you but maybe not all the bridal party as sometimes you need to hear your own voice, not everyone else's, it can get confusing!
Think about the style, colour and feel you want and then your florist can create the flowers to suit your theme.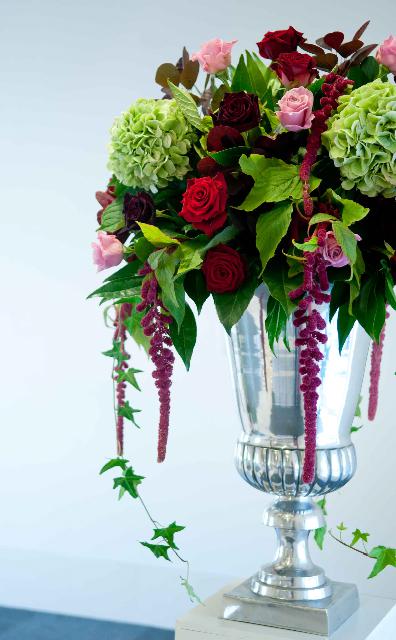 Your most memorable wedding.
We had a fabulous wedding at Harewood House earlier this year with 5ft flower balls hanging from the Pavilion, this was a huge feat of planning and looked spectacular, we had to weigh flowers on kitchen scales to work out how heavy the balls would be! Another memorable one this year for personal reasons was my brothers wedding to his Texan bride in July. The flowers were textured peaches, creams and pinks with David Austin roses, astilbe, spray roses, crespedia.The tables were decorated with balls on candelabra poles surrounded by family and vintage memorabilia. We decorated the staircase at their venue the Sun Pavillon, Harrogate with hydrangea, roses and amaranthus and their moss initials. I was honoured to be a bridesmaid and so it was lovely to be able be a part of the wedding rather than deliver 
the flowers and leave! I got to carry my own bouquet down the aisle too!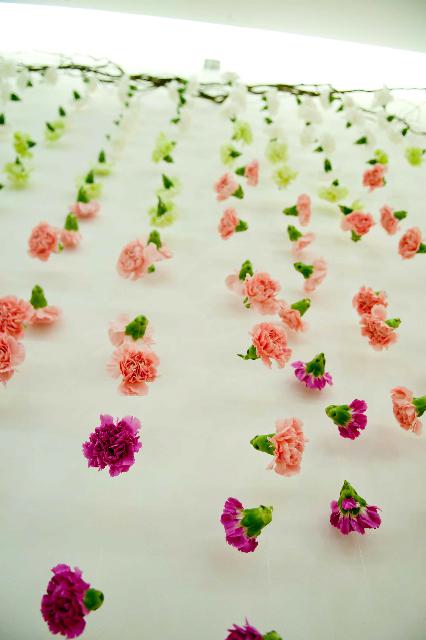 Isn't this brilliant?
You must get asked this a lot..what is your favourite and least favourite flower?
Its so hard to choose! I love seasonal flowers so spring- rannnculus, summer peonies, roses
especially David Austin, autumn hydrangeas, dahlias, winter red ilkex berries and sumptuous foliages. Tastes and trends change in the beginning I hated gyp and carnations but now they can be used to look amazing when used on their own, a big silver urn of gyp can look amazing.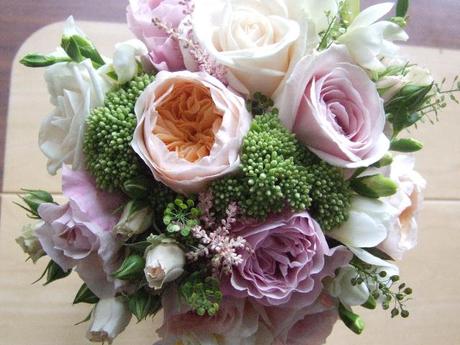 What flowers did you have at your own wedding?
The bouquets were mainly roses (Old Dutch, Amnesia, Gran prix, ruby red, Sweet avalanche, black baccara), pink cymbidium orchids, ranunculus, hydrangea and viburnum berries with ivy and galax leaves. The bridesmaids bouquets were all slightly different to replicate the difference my bridesmaids having different dresses. My bouquet was finished with a diamante bow shaped broach and the girls a diamante brooch.
We dressed the venue with two van loads of flowers! Well if you can't do it at your own wedding when can you!? We dressed the venue with moss letters, hydrangea initials, two huge silver urn arrangements, floor standing candelabra with ivy garlands, a large garland on the staircase of lush green foliages. We hung small flower hearts on the bottom of the staircase and a huge one on the entrance to welcome our guests.
The wedding breakfast tables were dressed with trio's of silver containers and wreath rings sat at the bottom of silver candelabra. We basically took over the venue, the hotelier had no idea what was happening!
.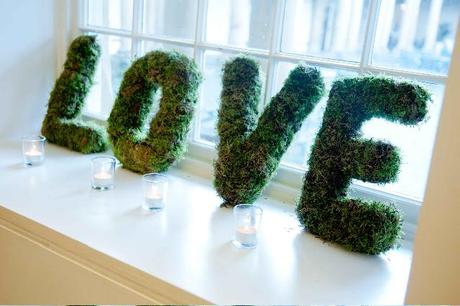 A quick Q & A
Favourite Colour:
Turquoise blue- like the sea..
Favourite Film:
Barefoot in the Park – Jane Fonda and Robert Redford at their best.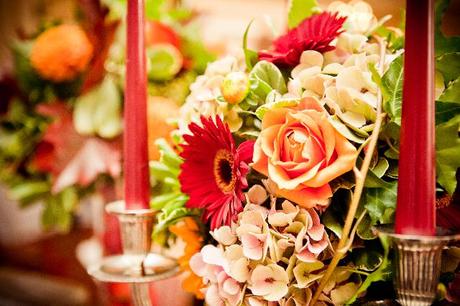 Favourite Song:
Amazing Grace Neil Diamond
Favourite Month:
April, full of promise of spring, my birthday and chocolate!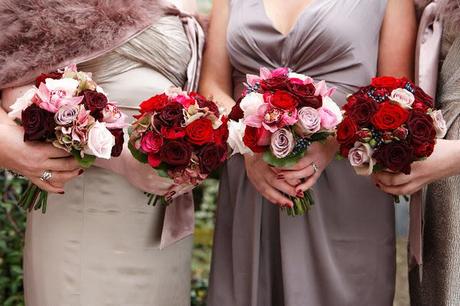 Favourite Drink:
Gin and tonic, preferably Martin Miller Gin
Favourite Food:
Love Love Love seafood, antipasto, cakes and chocolate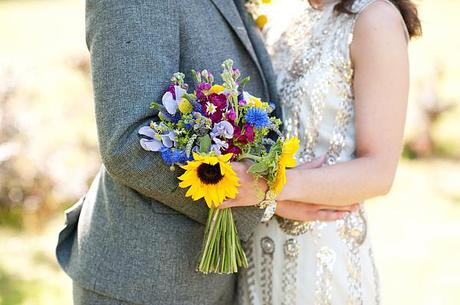 Favourite Word:
Plethora
Favourite Perfume:
Jean Paul Gaultier, wearing it for 16 years now, favourite candle Freesia by Dyptique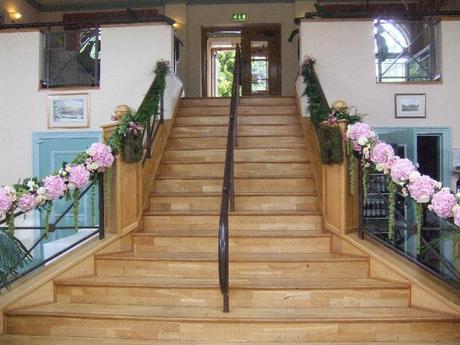 Favourite Book:
Like Water for chocolate byLaura Esquivel.
Favourite Quote from a Film:
 "
We want the finest wines available to humanity. And we want them here, and we want them now!"
" Even a stopped clock tells the time twice a day" – From Withnail and I.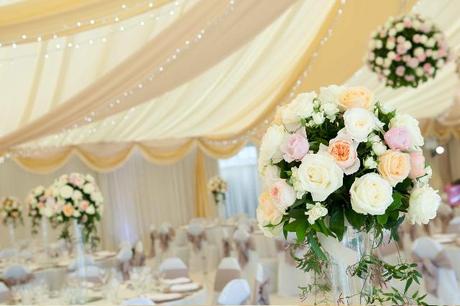 Flower school info
We are very excited to release the exciting news that we are teaming up with the Michelin stared

The Box Tree

restaurant this festive season.
You are invited to join us at The Box Tree in Ilkley on Wednesday 30th November and Wednesday 7th December 10am-2pm.
The day will start at 10am with coffee and biscuits in the sumptuous surroundings of the Box Tree, you will participate in a two hour flower arrangement and wreath decorating class. All materials will be provided and you will leave with a stunning wreath and festive display for your home. The class will be followed by a wonderful two course lunch.
A fabulous way to get in the festive mood or a fantastic gift idea, classes are limited to 10 people so book early to avoid disappointment. The price for the day is £100 and places can be booked by contacting the Box Tree direct on 01943 608484