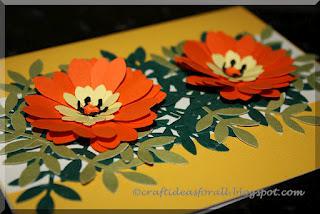 This is another project we did during the summer craft classes. As I mentioned earlier this year my focus was introducing new techniques and tools for paper crafting. This one focussed on using paper punches.
Supplies needed for the project :
- Card-stock in various colors
- Flower Punches ( I prefer to keep same flower punch pattern in multiple sizes, helps getting realistic look for the flower)
- Snowflake punch ( used it for the stamen)
- Leaf punch
- Mouse pad
- Stylus/ ball pen
- Glue
First we punched out bigger flowers ( 3-4 per flower) from orange cardstock. For the center of the flower we punched two small yellow flowers and a small black snowflake for the stamen. Layer the flowers by turning each layer a little bit clock-wise ( or vice-versa) to obtain that fuller look. For shaping the flower keep the flower on a mousepad, and press in the center using a ball pen ( closed end) or a stylus. The flower will form a cup shape. Then fluff the petals with your fingers.
For the leaves, punch out leaves in two shades of green. You have to punch a lot ( really a lot ) of leaves to fill the background. Then attach the flowers. We kept the card blank though you could add a message/sentiment on top.
I absolutely loved how it turned out . She loved using the punches and after the class made tons of flowers at her home using these punched. It makes all the effort worth it when a kid loves what you teach them. Am so proud of her.