Flow can be applied to many things in this world.  Creeks, clouds and winds are constantly flowing.  In their movement they are never the same from one moment to another.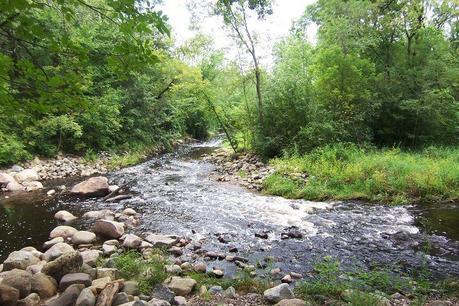 Our lives have a time and experience flow, moment by moment things change. How many moments have we missed and want back in our lives to relive. How many decisions? Opportunities come and go. However, we must move on, there are often no real second chances, time is never still.
Like all other life experiences, buying or selling a house is riding the flow of the river. Like the river it has many stages. Sometimes the flow is rapid and rocky, sometimes so slow it becomes tedious.
We are blessed to be in a time where streams are protected and managed well. Purgatory Creek in Eden Prairie was named for the bedeviling swarms of  mosquitoes that attacked road and bridge workers at the turn of the last century.
Also, at this time we are blessed to have more control and regulations for fairer and smoother home buying and selling. Yes, the paper work is arduous but real estate professionals are now, more than ever, trained to advocate and guide people to find the right home for them at the best price.
As you experience the flows in your life, have a good river guide with you. Look ahead, be prepared. You can't control the flow of the stream, but you can enjoy the ride, knowing you're safe and cared for.
In our lineal road system of today, it's hard to follow a river through it's full length. Even in our own neighborhoods we wonder where the streams start and ends. With an honest and knowledgeable guide we can navigate those scary, yet exciting, flows in our lives.
John wrote the post above, and reading it made me (Sharlene) think of a message I got from a client this week... clients I have worked with for nearly 9 years both buying and selling homes. Right now we are working on our 8th transaction together... buying a house which they will lovingly renovate for a new family. It has been more challenging than ever this time, with such low inventory resulting in bidding wars and rising prices. The flow has been slow as they search... then rapid and rocky as they move quickly when new listings come on the market. After losing out on a multiple bid offer this week I received the message below from them... which they said I could quote anytime, anywhere. It's all about flow...
"It's interesting that, while we were all very disappointed with not being the accepted offer.... there is a different feeling right now. It's that...OK, it didn't work..something else is out there...

Honest to God, we have NEVER worked with a Realtor who we felt was so much an advocate, educator and partner in our goals.  We highly value your perceptions and judgment. You are our greatest resource."
John & Sharlene Hensrud, Twin Cities Baby Boomer REALTORS - EMAIL
RELATED POSTS
Life Transitions & The 'Kinky Slinky'
Patience
Why 95% of Minnesota buyers used a Realtor in 2012 vs 69% in 2001
What Clients Say