At first I thought that this week's theme of 'flour' would be a tough blog but lots of ideas were soon presenting themselves.  After all flour is the main ingredient used to make our daily bread - a basic form of sustenance in most countries world wide. When I was young, the choice of breads was limited to brown or white but who could forget the wonderful advertisement for Hovis - a delivery boy cycling down a hill of a beautiful village with a basket fully laden. The current selection of breads is endless. Vive la difference.
I lived in Thornton Cleveleys for several years, home of the historic and restored Marsh Mill. Visitors can marvel at the working sails and mill stones inside. There are a dedicated group of 'friends' who are always happy to provide information. There were many windmills on the Fylde - so many in fact that it was nicknamed Windmill Land.
As the fourth child of publican parents. who rarely took a night off to visit friends in other pubs, I would be entertained by the younger of my two brothers who loved making pancakes. What a treat, tossed in the air, then sprinkled with sugar and lemon juice. I really love making them on Shrove Tuesday - I make very good ones too Lovely, light and crispy.
When my son was a youngster, he loved watching Thunderbirds on TV and collected all the vehicles and figures. That year, the must have toy was Thunderbirds Tracey Island - a plastic replica of the one in the TV series. The trouble was, it could not be bought for love nor money.  But then - Blue Peter came to the rescue by making a version on the show. I dutifully bought the right shaped yoghurt and margarine pots, pipe cleaners and other components and set to work.
The next task was to combine flour water and news paper for the papier-mache that made up the bulk of the construction. Of course, it had to be left to dry before it could be painted and completed with all the finishing touches.  I left t in the kitchen but coming downstairs the next morning, I was hit by an unexpected and terrible smell. Who knew? Tracey Island had to be evacuated to the shed until it had fully dried out. Nevertheless, when completed it was great and a firm favorite for months. As I don't have a poem to offer this week, I have found a link to the instructions in case you want to make it yourself. Have fun!  https://www.gerryanderson.co.uk/tracy-island-blue-peter/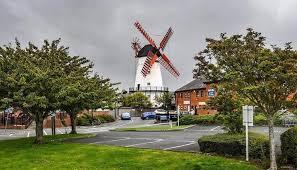 Marsh Mill, Thornton-Cleveleys. 
Thanks for reading.  Adele
Email This
BlogThis!
Share to Twitter
Share to Facebook
Reactions: