As a former competitive and more latterly professional ballroom dancer, I must confess to having a very keen interest in floors: More specifically ballroom floors.  A well waxed floor can make all the difference to glide, can affect how the choreography takes shape and more importantly in a marathon ten dance competition, whether a ballroom floor is sprung can greatly affect tiredness in the legs.
I have been privileged to dance on some of the best floors in the world, including The Tower Ballroom, The Hammersmith Palais and The Royal Albert Hall, which has an oval floor with high sides: A bit like dancing in a pit.  I have also danced on some of the most unusual floors. The floor at Matlock Bath is made of stone slabs and is merciless on the feet and legs. I was lucky when I competed there to have trained for over a year on a surface far worse. In 1968, my teacher Eric Lashbrooke, a former World Ballroom Champion, taught in an almost derelict church hall in Seacombe Ferry on The Wirral.  I complained bitterly to my father after the first lesson, that the floor had no polish, was gray in color and was riddled with splinters. My wise Dad told me that if I learned to dance well on that floor, I would be able to dance well on Blackpool beach. He was right.
Unfortunately, unlike the fabulous sprung floor at The Tower Ballroom, the dance floor in The Empress Ballroom at Blackpool's Winter Gardens has seen better days. Constant assault by the pressure of steel heeled stilettos has pitted it badly. When the British Open Championships are hosted there in May each year, a temporary replacement floor has to be laid over the top.
In 1969 I was selected to dance in Switzerland with my partner David. In preparation for the tour, we had a weekend rehearsal at The Midland Hotel, Morecambe. The ballroom floor was probably a quarter average size. It was almost impossible for  six young couples to dance on such a small surface. We had to work hard to adjust our routines but it paid off the end.  All the floors in the casinos that we performed in had similar sized ballroom floors.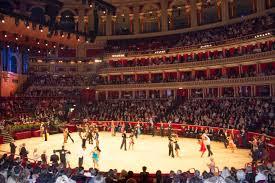 The Royal Albert Hall 
On another note, I once stayed in a London Hotel in a room on the 100th floor. It had an amazing view of course and I was perfectly happy until a large jet flew past, level with my window. I am sure that I could see the faces of the passengers on board and was relieved to be fully clothed at the time. I didn't get much sleep.
I had another interesting floor encounter at Universal Studios in Florida. The Tower of Terror is like a hotel. A lift attendant straps you in and then you are taken to the top floor. The doors slide open to show you the view and when they close, the lift drops 26 floors. It was not for the faint-hearted and I was extremely nervous because I have a serious neck condition. I remember shaking for at least half an hour and vowed never to go on a roller coaster again. Scary stuff.
What else is there to say about floors? Well - a woman went to a psychiatrist and told him that she had a fear of the floor. He laughed and said, "Why can't you be afraid of something sensible, like heights?"  She replied, "It's not the height
 that kills you - it's the floor."
The poem this week is from my Dance series.
Strictly Dancing
Come dance with me,
Feel the flow,
Ride the rhythm to and fro,
Draw me close,
Hold me tight,
Let our passion's fire ignite.
Twist and turn,
Lunge and soar,
Grind your hips until they're sore,
Take me up,
Drop me down,
Spin my body round and round.
Breathing deeply,
Rise and fall,
Toe to toe,
Heel and ball,
Staccato steps on parquet floor,
Quicken tempo,
More and more.
Parrup, Parrup,
Your tango beat,
Envelopes me from head to feet,
Then last crescendo,
warm and wet.
Come dance with me and make me sweat.
Thank you for reading. Adele
Email This
BlogThis!
Share to Twitter
Share to Facebook
Reactions: