Both myself and my computer were sick last week, the latter having an awful problem in that whenever I pressed the "b" or the "n" on the keyboard, a million Windows Help screens would pop up and freeze my computer.  Finally, after two days, I rewrote the registry (a difficult process!) and disabled the part that was causing all the trouble.  And, I am so excited to write a lot of B's and N's once again!
Unfortunately, that has taken up so much time, that I will have to postpone the first post describing my audition process, but until then I will get you caught up on everything from this crazy week.  On Wednesday, I sang in a masterclass for Diana Soviero, a very famous opera singer.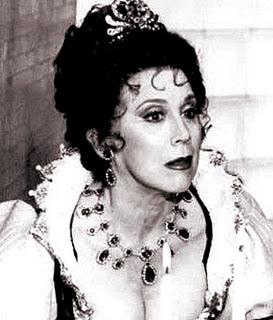 I was asked to sing Questa o quella from Rigoletto. I had to wait silently for an entire hour before I went on, but when I sang, I completely botched the ending.  I had to wait for so long that my voice wasn't warmed-up right.  But,  we worked on my highest notes for the entire time.  It turned out to be a great thing because those notes ended up having great space and ring.  She was teaching me to do some bad habits that in the end cured some of my other bad habits.  Whatever the case, I will have to find a way to replicate that sound in performance (because it was awesome) without looking too crazy.  For instance, she had me cover my teeth with my lips, which gave some extra cover to my high notes, kind of like this picture: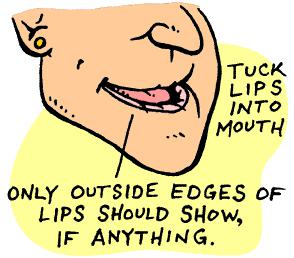 Who knew they made pictures like this?  Anyway, then she had me sing out of the side of my mouth, like Bryn Terfel, or in this case, Jerry Springer: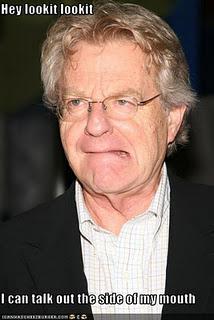 It doesn't look pretty, but it sounds awesome.  Later on Wednesday, after being told several times that the opera Turandot would be sold out at the new Kauffman Center here in Kansas City, I took a chance and went there in person to see if I could buy an unused ticket or get a standing room ticket.  Well, I got there and asked, but right when I was doing that, their computer system broke down.  During the 20 minutes that I was waiting, I talked to the manager and we talked about the grand opening and how amazing it was to sing on stage that night, and by the end of our talk, he just decided to give me a comp ticket!  And, I could pick a seat from either the middle of the 2nd row or a seat in a suite - one of the boxes that overlooks the stage!  I chose the suite so I could hear and see everything well.
It was amazing - an enormous production.  The singers were great, Liu (Elizabeth Caballero) soared above the orchestra with her delicate high notes, Turandot (Lise Lindstrom) was powerful, dark but beautiful, Timur (Samuel Ramey) was obviously a great dramatic voice and certainly an honor to see live, and Calaf (Arnold Rawls) made it through - he is the tenor (and if you don't know Turandot, it is the opera that Nessun Dorma is from).  I hate to be critical of a tenor, but he had a tough night at my showing, in that it took him an enormous amount of energy and heft to get through the high notes, but he did - it just looked very painful at times.  The most exciting part of the show for me was the dramatic staging.  Before scene 2 of Act 2, the stage transforms into the King's Palace, and a gigantic set moved forward from the back of the stage silently, enormous 100 ft. tall statues descended from the ceiling; it was so well done that it could have been a movie camera effect if I forgot that I was in an opera house.  The finale was also a great explosion of color that was gorgeous to watch.  The opera began with snow falling on stage and ended with thousands of flower petals falling like confetti during the final chorus number.  The costuming was very elaborate as well, especially for the Princess Turandot.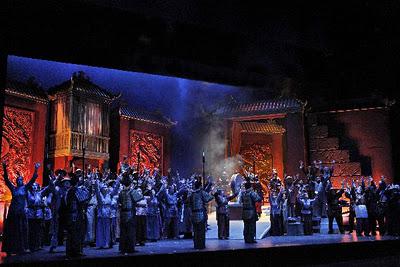 On the downside, the sets were a little too minimalist - a lot like the Met's new production of Tosca.  The orchestra, as great as it was, overplayed the treble heavy instruments like the piccolo among other things - perhaps higher pitches bother me more than most, but it was almost painful at times.  Also, and this has nothing to do with the production, but at my showing I think everyone was suffering from whooping cough.  I think coughing is very distracting, because I am intently listening to the quality of the sound.  Every cough disrupts that.  Sound is sacred to musicians, we respond to it and absorb it in every sense.  Coughing is as annoying to musicians as instant replay commercial breaks are to football fans - one or two are ok, but after five or six we want to throw something.



Finally, I have some new KVCI donors to tell you about.  We will again be having our celebrity auction this winter, and I have already announced some participants in that.  This year, new to our charity event and along with new scholarships in their names, I am happy to announce that Donald Trump is wanting to contribute and we will support a scholarship and have items from him in our auction.  Also, Eric Whitacre is renewing his scholarship and this year for the auction, he has graciously offered to compose, by hand, a one page music manuscript signed and dedicated at the request of the winning bidder.  This is a really exciting and unique offer!  Also, I have been talking with the famous soprano, Joyce DiDonato, and she has shown great interest as well.  Nothing has been "set in stone" yet, but I expect that we will incorporate a scholarship in her name in the very near future.
In the meantime, it is offer to opera rehearsal for a production of Le nozze di Figaro (the Marriage of Figaro) in November.
To see my performance schedule, please visit www.bryanpinkall.com