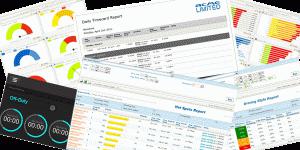 FleetMatics is thrilled to announce the biggest release in our company's 8-year history, FleetMatics 9.0. With this release, your business will not only stay on the cutting edge of technology, but you'll be able to manage your fleet with even better information and tools at your fingertips.
Based on the feedback our customers provided about what they want next from FleetMatics, we know you'll be blown away by the new features and enhancements in FleetMatics. We can't wait to take your fleet management capabilities to the next level.
9.0 Features Include:
LogBook Do away with paper driver logs, remain compliant and keep your drivers safe.
 
Timecard Take the hassle out of timecard processing, and ensure time paid equals time worked.
 
Driving Style Shine the light on aggressive driving & keep your business, drivers and reputation safe.
 
Hotspot Report Ranks the locations most frequently visited by your drivers to uncover unknown places.
 
General Enhancements Live Fleet Search, Long Stop Alert, Driver Assignment, Route Replay, More.
For more information on the 9.0 features, visit the 9.0 page.