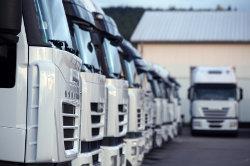 FleetMatics occasionally publishes guest posts with interesting content relevant to our audience. Jared Heath is a freelance writer, content strategist, and people person. He writes articles on business and leadership, and loves organizing good people to do great things.
A fleet manager's title is a bit deceiving when taking into consideration all that "managing a fleet" entails. They are in charge of vehicles, yes, but also handle expenses, drivers/operators, repairs, tracking systems, and coordination. The fleet manager is, in essence, running his own company, almost like a sister organization to the larger corporation.
Of all the issues the president or owner has to deal with, the people are the most delicate part of the organization. In my own business and other leadership positions, I have found that it is far more important to get your employees to trust you rather than finding people that you can trust. If you are concerned about your fleet, then park it. You'll get great gas mileage, no wear and tear on your trucks and you'll always know where your vehicles are.
But of course that's ridiculous, and the job as a fleet manager has more to do with people than it does with engines. Here's what I mean.
The operators/drivers are the stewards over essential parts of the fleet. If they leave the engine idling too long, if they take a different route or make a personal detour, or if they get a ticket for pushing too hard and too long, it comes back on the fleet manager's head. And that's really easy to stress over.
If you try to find five, ten, or twenty operators that you can rely on, then you worry about twenty different people. But if you're doing the hiring process right, then you have reliable people. Your operators will trust you when you treat them fairly, get to know them, and maintain a professional, respectful relationship with them. By treating your employees right and garnering their respect, you only have to worry about one person, no matter how big you grow your fleet.
Take OSHA training for example. You have your own courses and training to follow, and the operators have a few rules of their own. Every company out there lives and dies by OSHA's regulations. If you have rebellious operator whose actions could seriously damage the company, then you're worried about trust. He hasn't done anything that's grounds for termination yet, but you feel like he's a ticking time bomb. This is where your relationship with your operators comes in handy. Take your operator aside and give him a list of the things that bother you. If it's serious enough, have him sign a paper with the list of issues on it. It's not a write-up; it's just a record.  You could go as far to install GPS tracking on his vehicle to monitor behavior. If he breaks your trust, you at least know there was enough warning on your end.
When people feel that the job is theirs to lose, they are far less likely to let you down. So when you think you're just dealing with a fleet of vehicles, remember that if you don't forget the people driving those vehicles, you'll get a lot more mileage.