Pregnancy is a beautiful journey of a woman's life that brings a lot of love, affection, emotions as well as challenges for her. This journey begins with those two pink lines and changes a woman's body in many different ways. That beautiful growing belly is the first sign of the change that is going to be part of her all through her life. This is that time when a woman needs comfortable, breathable clothing that gives support and space for her baby and belly to grow. Gone are the days when maternity wear was not crucial. Women used to wear whatever they had in their wardrobe and was easily available. Times have changed and pregnant women are more aware of her comfort, health, and style.
Celebrity moms are the ones who have changed the way we look at maternity wear. They have added style and beautiful chic look to the way we dress up during pregnancy. Not only this, but it has led many pregnant moms to aspire and look equally stylish during this beautiful journey of nine months.
Maternity wear or maternity clothing industry is very small in comparison to other clothing categories. Finding a right clothing brand is a challenging task for a mom to be. I remember, during my pregnancy, I always preferred comfortable clothes, especially during my first and third trimester. In the first trimester I felt nausea, sickness and uneasiness thankfully my comfortable, light and breathable cloths always gave me a happy feeling. During the third trimester when my belly was fully grown and I use to find difficulty in sitting and getting up again, my maternity wear gave a good support and happy feeling to my skin and body.
There was a time when women used to hide the belly, the bump was supposed to be protected from the world and not flaunted at all. Unlike today, women do not shy of their body shape during pregnancy. They flaunt and feel proud and happy to show off that soon they will become a mother.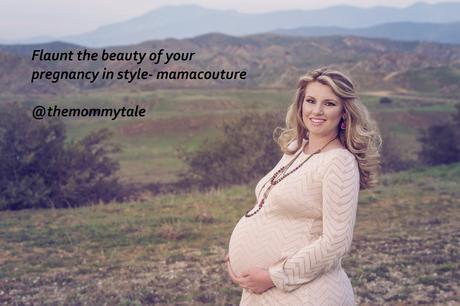 The nowadays maternity fashion industry has designers and researcher who are working on each and every detail of design, fabric, feel and comfort of an outfit. The ultimate purpose is to make a pregnant woman happy and feel healthy. One of the top maternity brands available in the market is Mamacouture. Mamacouture gives you a good range of maternity clothing with different categories, Indian wear, office wear, casual and party look. You can flaunt your baby bump happily at all the occasions and remain in comfort and style together. Ms. Shradha Sud, CEO Mamacouture always wanted to add style to the maternity wardrobe of pregnancy moms so she launched her brand. You can read her motherhood journey here.
The Idea behind Mamacouture was conceived by the founder when she was pregnant and she herself has faced the challenge to find a stylish comfortable maternity wear. She wanted to make sure that other pregnant women do not face such issues so she came up with the brand Mamacouture. Mamacouture not only give you the comfort when you are pregnant, but they also offer you a collection of affordable nursing wear.
I have seen many moms feel that the money spent on maternity wear is a waste and post pregnancy these clothes become waste. But, Mamacouture makes sure that you can wear the collection post-delivery as well.
Here are a few tips to choose stylish maternity wear for you
1. Choose a right brand:
Branded products are made in a way that you can buy the normal size you wear with the space around your breast and belly area to get the perfect fit and comfort.
2. The fabric is really important:
Always look for breathable and comfy fabrics. I personally preferred cotton as it gives me comfort and because of extreme heat was perfect for the weather.
3. Choose Style that gives you confidence:
You can choose a style that gives you confidence when you are wearing an outfit. Indian wear and western wear both have amazing styles in maternity fashion. Mamacouture offers you the stylish collections of Skirts, trousers, tunics, and Kurtas to choose from.
4. Play with the colors:
Go for the darker shades for evening outfit and subtle pastel shades for day wear. The Lighter shades will make you look younger, light shades reflect light and give you a cool feeling during the daytime. while darker shades give you a perfect look for an evening party, family dinner and a great combination of style.
5. Do not hesitate:
Flaunt your baby bump you will be a mama soon. It's the happiest emotion and there is no scope of being shy. Go ahead and show the world that you are pregnant yet stylish.
Thanks to Mamacouture who is constantly working for a pregnant woman and adding style to maternity fashion. Go ahead and grab that new look and feel happy to flaunt your baby bump. Check out their collection here.
I hope you liked the post and this post has helped you with ideas to flaunt your baby belly. Do share your experience with us below in the comment section.
Themommytale wishes you a happy, healthy and stylish phase of pregnancy.