This is the first "flashback" post of the series. I chose this one from late 2009 because it really reflects how I was feeling right before leaving home in Sydney to start my journey to England/Germany. It is quite amusing how much I mention my boyfriend - for the past couple of years I've barely ever mentioned a boyfriend! Mainly because I never stay with them long enough to make them worth mentioning haha. Life is too short to be with people who you know aren't what you're looking for. I don't by any means know what I am looking for, but I definitely know what I'm not!I also find it quite funny how I'm stressing over formal, friends, boys, school and exams, things which now seem so novel and insignificant compared to the issues I have to deal with now that I am that bit older. Just goes to show how protected we can be when so young! I know I'm by no means old but still, it would be lush to have those carefree school days back again, even though they didn't seem so carefree at the time!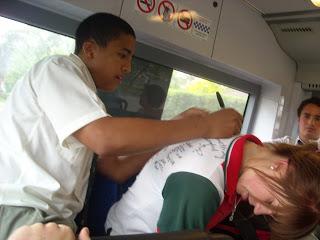 This was my last day at school on the bus home... everyone
wrote a message on my sports shirt which I still have as a memory.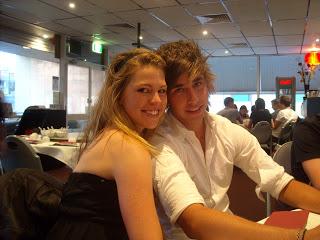 The boy I had to leave behind, and the longest lasting relationship
I've had. Still friends now :)
"
Oh My Lord
I think I attract sudden situations. Instead of leaving here on December 28, I am now leaving next Saturday the 14th of November. Reason being, mom and I realised that over the next 5 weeks I am not actually doing anything at school. Its just enrichment stuff with random activites and business week etc. So why would I waste all those weeks here doing nothing and not riding, when I could be in Germany riding Julius (he leaves on the 11th of November) and starting up my training? Hence the reason we go over now to get the best out of the training he is getting from Leonie Bramall. Also we want to make sure he is safe when he arrives there and gets looked after well because from our last experience with the pony in England, who injured himself (probably in quarantine), we don't want to risk anything happening to Julius.
Now that might not sound that bad, because I still have over a week to prepare, right? Well no, I dont. I have to do my School Certificate next week! That means studying every night (like I have been doing for the past two weeks) and not going out until its all done and over with.
To give you a clearer idea, this is my diary planner for next week:
Saturday 7th: Gym in AM, Study in PM, hopefully see Ramon at night.
Sunday 8th: Study study study!
Monday 9th: School Cert. Study in PM
Tuesday 10th: School Cert. Study in PM
Wednesday 11th: School Cert. FREEDOM!!!! Go over to Ramon's that night.
Thursday 12th: School. Have friends over that arvo perhaps... we have 3 Pulse alcopops to finish before I leave haha!
Friday 13th: FINAL day of school EVER! Have Ramon over? Want to stay at home with family though.
Saturday 14th: Leave Australia........
So as you can see there really isnt much time to do everything I was planning to do before I left. I had a few dates lined up to catch up with old friends but now I have had to cancel. I also miss my yr10 Formal which is really disappointing because I have my dress and shoes and they are stunning and I won't get to wear them! But I know that if I stick around here just for formal, I will regret it so much if its not all what it's made out to be and I could be riding in Germany instead of being at school.
Bec and Dad are sad about it, but they understand that it's important to me and that I would love to do it. I will be back here for Christmas though so we can spend time together as a family, and that is good because it is kind of easing into the notion of moving away forever. Being home them also gives me extra time to pack up my room and officially 'move out'.
The biggest thing I am worried about is telling my boyfriend, Ramon. We only got this idea on Sunday, and talked about it as a family on Monday, and mom booked the tickets yesterday, which was tuesday. I told my friends yesterday which was okay to do (except Georgia - my bestest friend in the whole world - was beside herself) and I had to tell my date for formal, James, that I wouldn't be able to go. It was quite heartbreaking and I felt so bad. But I havn't told Ramon yet and I don't know how to do it... I want to do it when I see him, not over txt or anything. I will take a break from study to go over to his place tomrrow afternoon and tell him at some stage during the night. I hate to be the giver of bad news.
By the way, I can't take my fish with me :("