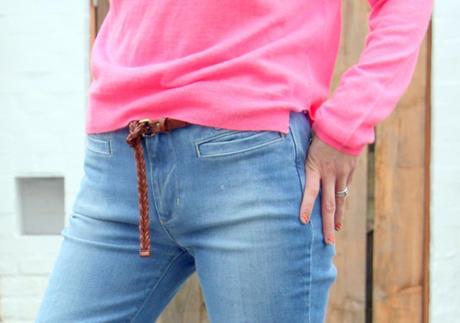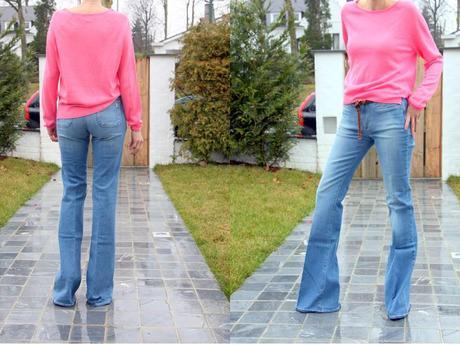 Marrakesh flare jeans - Mih Pink neon sweater - Topshop
Belt (old) - H&M The Ray and the Ro nail wraps - NCLA
I'm wearing MiH Marrakesh jeans, they are quite high-waisted which I'm not really used to, this is why I wore a sweater that falls lower than the waist. I still need to get used to the high-waist. As you probably noticed these jeans are way too long for me, they will look much better after they are hemmed but I'm so afraid that a clumsy taylor ruins them that I have been delaying this moment.
If you wonder about the last picture, I was going for Angelina's pose at the Oscars, the husband and I were having fun shooting these pictures :-). But now looking at it I think it looks more like John Travolta on Saturday Night Fever...
If you like this look here are some shopping ideas, a selection of flare jeans already shown on denim trends and a selection of pink sweaters.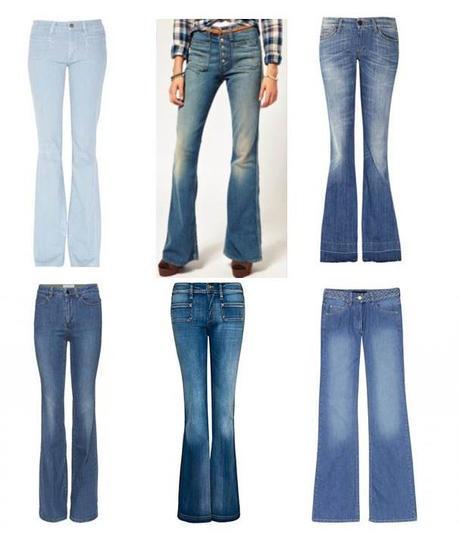 From top left: Light blue MiH flare jeans (
net-a-porter
), Levis 70s flares (
asos
), 7FaM low-rise flares (
net-a-porter
),
Stella Mccartney bell-bottom jeans (
mytheresa
), Mango flares (
here
), Isabel Marant Leon jeans (
mytheresa
)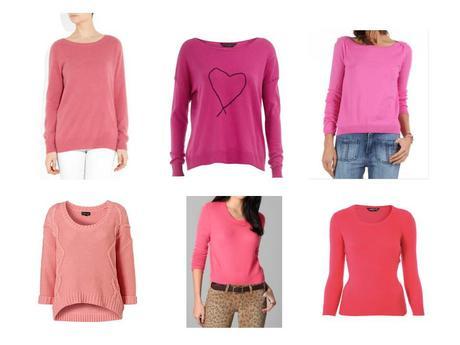 From top left: ACNE angora sweater (

net-a-porter

), Heart sweater (

dorothyperkins

), Swildens sweater (

monshowroom

) as seen on

Clara

, Long back sweater (

topshop

), Bop cashmere sweater (

shopbop

), Angora sweater (

missselfridge

)


I personally love flare jeans, I have been wearing almost exclusively skinny jeans for years and the flare jeans silhouette is refreshing. I also think that they are very flattering, I always feel so slim and tall when I wear flare jeans and heels, so what is not to like ?
How about you, what do you feel about flare jeans ? Would you wear them for spring and summer ?