FKA Twigs' single from this past summer, "Water Me", was a startling and maybe even a little disturbing piece of rickety, bar-none electronica (complete with a jarring music video). On the four track EP, EP 2 (which is, incidentally, FKA Twigs' first EP under this name), our one sample of Twigs' isolationist electronica is put into a larger context.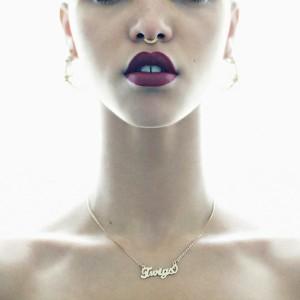 "How's That" rattles around rhythmically, with sequenced drums colliding off of electronic clatter, as Twigs' sharp voice navigates the falling stalactites of percussion. There's a carpet of synthesizer swells as well, and these twist in brief fits from warm inviting tones into chords that sound like they wouldn't be out of place on a Brian Eno album. This rug is often pulled out from under the listener altogether, as Twigs' unidirectional voice speeds from melodic landmass to landmass, often with nothing beneath it in between.
There's a dark, mainstream pop element to EP 2 as well; "Papi Pacify" occasionally dips into the intent and mood of something that Christina Aguilera might have attempted once, in the midst of some fever dream. It is difficult to gauge Twigs' intentions with EP 2; is it meant to yank and prod at our pop sensibilities? Or is it an effort of grander, more experimental ambition that just so happens to pull familiar chords?
"Water Me" is still the most attention-grabbing example of Twigs' work that we've gotten so far, but EP 2 is rounded out nicely by the flitting attentions of the other tracks. Some EPs can feel more like sampler plates than actual artistic endeavors, but there's nothing wrong with getting a taste before the real thing. What that thing is – as far as FKA Twigs is concerned – remains to be seen, but EP 2 is a sharp and refreshing whetter of proverbial appetites.

3.5/5 bars