Although glasses are supposed to improve your vision, they can also be fashionable. You want to ensure that you purchase a pair of glasses that flatters your face and enhances your appearance. Since your glasses are going to be sitting right before your eyes, they're going to become a focal point of your face. Therefore, selecting the right pair is essential to maintaining your style. There are certain elements you should make sure you consider when selecting a pair of glasses.
Facial Features
Glasses are a great way to maximize the facial features that you are most proud of and minimize those that you don't like so much. Determine what facial feature you want to reinforce and repeat it with your glasses selection. For instance, if you want to emphasize a square jaw line and the angles in your face, then go with a pair of square frames. Alternatively, if you want to minimize a large nose, select frames that have a wider, more low-set bridge.
Body Scale
Select glasses that keep in tune with your body scale. For instance, if you have a small body scale, then select a pair of glasses that have a small to medium-sized frames. Likewise, if you have a larger body scale, select glasses that are large enough to balance and accommodate your frame.
Facial Shape
The shape of your face is one of the most important elements you must take into consideration when you purchase a pair of glasses. Your glasses should balance your head. If you have a pear or triangle-shaped head, then you should select a pair of glasses that is as wide as your jaw line, according to a professional from The Eyewear Place. Many times your optometrist can assist you with finding glasses that flatter your facial shape. For instance, an optometrist in Edmonton can help you choose frames that work well for your face. You can also try on many different frames until you find something that you feel looks best on you.
Coloring
Your glasses should go with your coloring as well. Keep in mind the coloring of your natural skin tone as well as that of the clothes that you're going to be wearing with your glasses. For instance, if you have a cool skin tone, then you should select glasses that complement your skin tone. You can also find glasses that complement your hair. For example, if you have pale skin and lighter hair, you may want to avoid black frames as they may wash you out. Browns or silver may be a better option for you.
Style Personality
There are various style personalities, and your glasses should reflect yours. For instance, if you have a soft, romantic style, then your glasses should too. Conversely, if you have a bold, dramatic style, then you might want glasses that have bold colors and dramatic lines as well. Although there are different glasses that may suit your shape and face, always go with what you like best. If  you love something, you will enjoy wearing it and it will show off your own personality and style.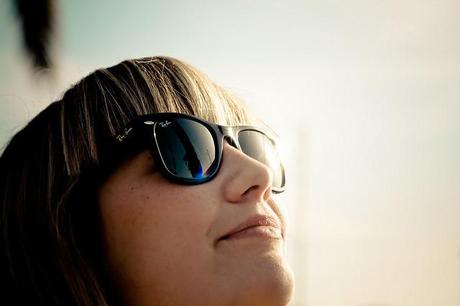 Regardless of your style, there are numerous shapes, sizes and styles of glasses frames on the market designed to accommodate virtually any style. Examine your features and your fashion sense before selecting your glasses to ensure that you choose a pair that reflects your personality.