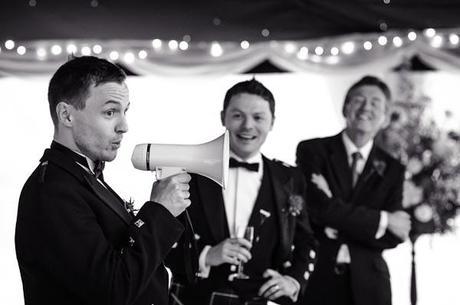 Eng­lish coun­try wed­ding… photo credit Tino & Pip! (click to see more)
Five tips for organ­is­ing a stu­pen­dous stag do
If you're organ­is­ing your stag do then chances are you want an epic, mem­o­rable event– a week­end with the excite­ment of The Great Escape, the adren­a­line of a round with Mike Tyson and the sophis­ti­ca­tion of James Bond.
The nor­mal stag do activ­i­ties might not make the cut, but do not fear dear stag. There's a whole range of absolutely stu­pen­dous, ter­rific and down­right mind-blowing stag party options that'll give your stag­tas­tic night the edge, with­out you end­ing up semi-clad and tied to a lamp post (which stopped being side-splittingly hilar­i­ous some time ago.)
There­fore we have risen up to the stag chal­lenge for you– see below for our check­list on mak­ing it dif­fer­ent from the usual raunchy, prank-fuelled week­ends– so that you and your very-best-friends can have a thor­oughly enjoy­able time!
Stag do tip num­ber one: Decide where you're going…
A great, easy (most of the time) first step is pick­ing a loca­tion for the stag week­end. Pick it early on and you'll nab bet­ter deals. Fac­tor in what the lads want and can afford (it's no use send­ing the invites out for a Las Vegas casino party if their time/budgets can't stretch beyond Brighton) and book accord­ingly. If you're all together with a bit of manly ban­ter and some catch­ing up to do then you'll have a ter­rific time, Vegas or not.
If you're look­ing for some des­ti­na­tion inspi­ra­tion then the offi­cial chart top­pers in the world of sophis­ti­cated, inspir­ing stag do loca­tions are: Rome, Edin­burgh, Gothen­burg, Budapest and Cambridge.
Stag do tip num­ber two: Choose a date…
Once you've got a des­ti­na­tion cho­sen you're well on the way to mak­ing stag leg­end, so get a cal­en­dar and a dart and throw it blindly– voila, date picked! For some­thing a lit­tle less dan­ger­ous and a touch more prac­ti­cal find out when every­one can go, take the des­ti­na­tion sea­son­al­ity into account and email round the invi­tees to let them know.
Stag do tip num­ber three: Decide who makes the cut…
Chances are you have hun­dreds of guy friends (more or less) all eager to clam­ber onto your stag train, so decide who makes the cut! You and the blush­ing bride-to-be are prob­a­bly in the process of mak­ing a guest list for the wed­ding so have a gan­der over that and a chat with her.
How­ever, don't feel the oblig­a­tory guests on the wed­ding list are an instant must on the stag one. Yes your hairy-estranged-Uncle-on-your-mothers-side had an invite so there was some­one to sit next to Patsy from next door, but that doesn't instantly give him a free pass to the stag party. Equally, there's a fair chance that not every­one who's been invited will be able to go– so if you've booked your stag plans for 10 peo­ple and only 9 can go there could always end up being a place for the afore­men­tioned hairy Uncle.
Stag do tip num­ber four: Man­age the financials…
One of the most impor­tant things to do when you're book­ing your stag party is to make sure the com­pany you're going with are finan­cially pro­tected– or you'll have a lot of broke, angry stags who have to spend the stag night in the local chippy. ABTA bond­ing is what you want to look for– it ensures that you won't be like so many men before you who find their money lost and their packed suit­cases ren­dered use­less. Once you've done that tiny bit of home­work you're all set to get the money off of your mates and assure them that it's safe and secure.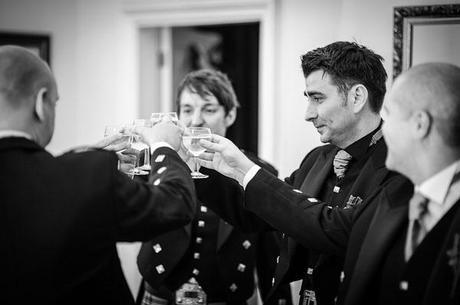 See this Har­gate Hall wed­ding on the blog — click. Photo credit Pix­ies in the Cellar!
Stag do tip num­ber five: Make it a bit different…
With all the pres­sure you're fac­ing (organ­is­ing a night that the lads will remem­ber while giv­ing your fiancée her dream wed­ding) you deserve the best time ever on your stag do. Mix up the tra­di­tional stag week­end activ­i­ties, such as clay pigeon shoot­ing and white water raft­ing with more suave, plat­inum activ­i­ties such as wine tast­ing, punt­ing or a '007 day'. Make it mem­o­rable for all the right rea­sons, and give the boys some proper mem­o­ries to take home (and surely learn­ing the dif­fer­ence between sparkling wine and cham­pagne and becom­ing punt­ing pro's are bet­ter sto­ries to take home than a night max­ing out your credit card before two days of being ill?)
Once it's all organ­ised you can sit back and relax in the knowl­edge that you've got a week­end ahead that's bound to be phe­nom­e­nal! Stag mem­o­ries await!
Guest blog post for Eng­lish Wed­ding Blog by Gen Flintham from StagWeb.co.uk.
Stag­Web are lead­ing stag do organ­is­ers and offer 66 top des­ti­na­tions, loads of stag do ideas and full ABTA bond­ing. You can find all the above stag do activ­i­ties as well as hun­dreds more at their web­site. With years of expe­ri­ence, a mas­sive range of ter­rific ideas, unri­valled ser­vice and all the finan­cial pro­tec­tion you need, Stag­Web is your totally ded­i­cated stag week­end platform!