This is the latest and most sophisticated Nokia mobile with Windows Phone.
It is powerful, easy to use and has one of the best camera phones.
Nokia Lumia 920 is one of the most interesting phones this year.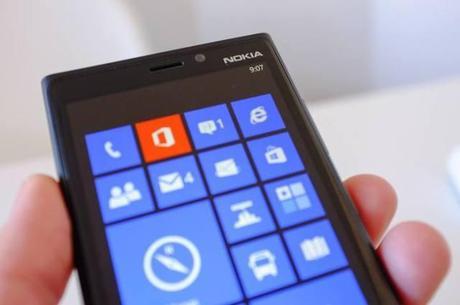 The Nokia Lumia 920 is one of the most sophisticated, powerful and very well built smartphone which has one of the best phone cameras FTechBlog ever tried.
The operating system Windows Phone 8 is fast, easy to use and works great, but has some usability issues. But this is minor compared to the real problem of Windows Phone: no one uses it. This means that until now developers have paid little or no attention. The fair, at best.
This seems to be changing. The arrival of Windows 8 has benefited Windows Phone, which in recent months has increased its catalog of applications greatly, until doubled. But the reality is that even today, the attention of developers, and by extension its applications are geared primarily towards iOS and Android.
But the lack of applications and users does not change the fact that Windows Phone, not perfect and neither is any of its competitors, is a good operating system.
And does it change the fact that the Nokia Lumia 920 is a gorgeous phone. Highlight the five reasons why I think so.
1. Design and operation
Viewing the specifications might seem that the Nokia Lumia 920 is a mazacote: weighs 185 gr. This is about 50 grams more than the typical weight of a current smartphone (135 grams) and 70 grams weighs more than an iPhone 5 (112 gr).
But the Lumia 920 is comfortable and easy to catch. Perhaps it is a bit wide, but does not feel as heavy as might be anticipated.
It is built of good quality plastic and better feel. And it's solid as a brick. The Lumia 920 follows the design seen in previous models such as the Lumia 800 and 900, but these issues resolved I did not like, as the plastic cap from the USB port (which disappears) and the micro card slot SIM is now virtually invisible.
In operation no unnecessary delays or pauses or strange reactions, it works wonderfully well and moves with excessive looseness phone operating system and applications.
2. Camera
Nokia made ​​a mistake in wanting to highlight the quality of the images captured by the cameras on their mobile phones using the recordings of such cameras "real".
Worst thing about that? I had no need for it: the camera of the Nokia Lumia 920, with optical stabilizer, aperture f / 2, 8'7 Megapixles, Carls Zeiss optic and technology PureView, easily surpasses most cameras you can find today in a Mobile.
Even in low light and flash photography results are surprisingly good. Given that it is the tiny camera of a mobile phone.
The main chamber is accessible through a dedicated button, located on the side of the phone. Hold it so that, even with the phone locked or in sleep, start the Camera application and photo shoot.
The video recording is HD 720p and 1080p (Full HD) and the front camera is 1.2 megapixels.
3. Applications for Nokia
For other Windows phones Nokia mobiles have in its favor a wide range of unique applications. And some of them are alone reason enough to choose a Nokia.
This applies to applications Nokia Maps, Driving, Transport and Urban Vista. This application pool is all you need to know where you are, where to go and how to get there (walking, driving guided by GPS is not dependent on the mobile connection or public transport) and find almost anything you might need restaurants, hotels, tourist destinations, entertainment venues, shops, … indicating where they are using augmented reality through a camera phone.
But Nokia also has other applications to make panoramic photos, clever shot -that uses multiple photos to create a picture-perfect group, animated and retouching photos, or to project images on any screen phone with web browser and operating the easiest way I've tried. It also has applications for reading e-books and music.
Nokia Music not only a wide range of music available for purchase. It also offers streaming music, it works even without an Internet connection after a previous download of songs and music channels that you want to hear.
4. Screen
The screen of the Nokia Lumia 920 is an excellent LCD of 4.5 inches with resolution of 768 x 1280 ask (HD) and a pixel density of 332 ppi that provide a crisp.
The colors, contrast and brightness are very good, and is a delight to see in her videos and films. The automatic brightness adjustment with its bright sunshine make the screen look reasonably well also under full sunlight.
However the effective viewing angle is somewhat reduced and the colors and brightness are attenuated when the phone is turned too far to the plane of the eyes.
The Lumia 920 touchscreen is very accurate and sensitive. In fact it is so sensitive that it can be used even if you are wearing gloves. This mode of "high sensitivity" probably slightly increases battery consumption, so if you do not need can be disabled from the phone settings.
5. Wireless charging
The Nokia Lumia 920 incorporates induction charging, or charge without wires: just place it on a surface or inductor to charge the battery, in the same way that recharge electric toothbrushes.
It might seem that there is little difference between leaving your phone on a loading surface and place on a conventional basis or by connecting a cable.
And there is not. But the induction charging is a plus and loading mode on a mobile-and the possibility of charging current is low, thanks to technology and yet there is still little used, but will be increasingly more usually found installed in vehicles, public buildings or airplanes.
And mass adoption would remove the need for cable or "appropriate cable", as the leading electronic manufacturers working with Qi wireless charging standard defined by the Wireless Power Consortium .
Application also can be matched to features like the music and data transmission (NFC pairing and Bluetooth transmission), so that it is sufficient to place the phone on a stereo as the JBL Power Up to start loading and music playback.
The development of induction charging is the advance to the transmission of electricity without wires or physical contact, the great unfinished business of modern technology.